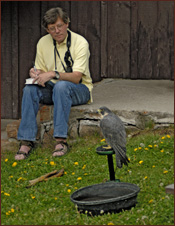 Author and artist, David Sibley does a sketch of Sibley, our Peregrine at a program at Pine Butte Guest Ranch, with the Nature Conservancy. For nine years, we have been invited to do a program then go bird watching!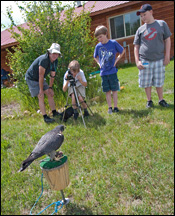 Ron Scholl and students from our summer Young Filmmakers Workshop, Missoula Community Access Television.



Raptors of the Rockies conducts a number of public programs and hosts a variety of fund-raising gatherings throughout the year. In addition, Kate and her birds are guests every two months on the popular "Pea Green Boat" radio show on KUFM, Montana Public Radio and she has been featured on local TV and the award-winning PBS program, Bird Watch, Ducks Unlimited TV, and the Animal Planet. Public events coming up include…
Raptors and Art Camp, Missoula Art Museum: Monday-Friday Once again Bev Glueckert and Kate come together to create an unparalleled experience of making art with live raptors! Kate brings an assortment falcons and owls from her home in the Bitterroot where she operates her educational program, Raptors of the Rockies. Create life-sized raptor sculptures, detailed drawings, and monoprints. (Priority will be given to children who have not yet taken this camp.) ages 7-12 10AM-12PM
Sunday, August 8, 2021
Nine Mile Community Center Program: Postponed from last summer (for some reason), we'll be at Nile Mile with some birds and fun. A Sunday afternoon visit starting at 2 pm, birds and books and open to everyone.
Sunday, August 22, 2021
Seeley Lake Celebrates DATE CHANGE: Alpine Artisans Open Book Club presents Kate Davis of Raptors of the Rockies, birds, and a discussion of her new book. Homestead Pavilion in Seeley Lake, 1 pm
Saturday, September 18, 2021
Birds of Prey Festival: Lone Pine State Park near Kalispell hosts their annual raptor fest after a year break, and we will return - our last keynote there was 2013! Events for the whole family starting at 9 am. We are on at 1 pm with a PowerPoint and some falcons and owls. Be there, and we'll be "safe."