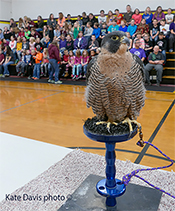 Sibley the Peregrine's 600th program at Clinton Elementary School, and coincidentally our first school back in 1988!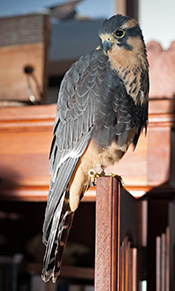 Sonora the Aplomado Falcon hangs out in the office every day, star of 50 programs programs and tours a year.



Raptors of the Rockies offers raptor education and birds in art programs for elementary schools (k-5) as well as private and public gatherings across Western Montana. Programs are led by Kate Davis and a teaching team of live raptors, each with a unique story and personality. These hawks, falcons, owls and eagles are utilized in lively, informative and entertaining presentations and discussions for young and old alike, one hour in length with four teaching team birds. And not birthday parties.

Raptor Education Programs
Programs cover natural histories of the variety of raptors, anecdotal lessons learned over the years, and every participant, 138,000 so far, is asked to go outside and "hoot up an owl." The Teaching Team has been to 137 schools across the state.

Birds in Art Programs
Live birds are the greatest of models to render in art. This program begins with a presentation on avian anatomy and function and is followed by sketching, painting or clay or paper mache sculpting sessions that include discussions of the characteristics key to rendering each species.

Falconry Programs
The terminology, history, and techniques of falconry are discussed (but not necessarily encouraged.) Kate Davis holds a Master Falconry permit.

Traveling Trunks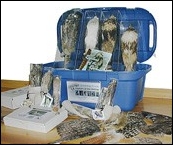 No longer available, sorry.
Travel Restrictions
Caring for and using live birds in demonstrations unfortunately limits the geographic range for Raptors of the Rockies programs. As these raptors must return home to be safely tucked away each night, we can not offer our programs outside of Western Montana. However, Kate has a lively PowerPoint and discussion with over 100 slides, and she has presented in Chicago, Boston, Detroit, Hawk Mountain, Pennsylvania and the St. George Winter Bird Festival in Utah!
In the Works
Kate's seventh book is out,"Falcons of North America Second Edition" again with Mountain Press Publishing Company. Over 260 photos and new and updated science, 264 pages of Falcon Fun. Kate, Nick Dunlop and Rob Palmer have collaborated of several books, another one in the works. She is currently working on drypoint etchings of birds, printmaking after a hiatus of 18 years!
Raptors of the Rockies is a non-profit 501(c)(3) program whose primary mission is education. About half of our income is from donations from individuals and businesses, and we could use your help. Your support is very much appreciated and all contributions are tax-deductible, with gifts in the mail and recognition on the web site and in newsletters.