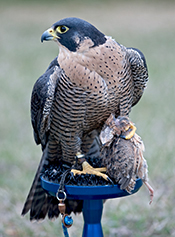 Sibley and Coturnix Quail! Delicious.






Zoey guarding 400 pounds of mice. Circa 1990's some time, back at the first Raptor Ranch in Clinton.



Office Web site, Blog Page, Telephone, Postage, Office, Newsletter, ink and paper...on and on.

Coturnix Quail 800 each year at $2.52 a piece, the sole diet for the falcons. They love them, feathers, bones and all.

Eastern Fox Squirrels: 300 to 400 each year from a trapper in Missoula. They serve as food for the eagles, a non-native and destructive pest whose numbers have been getting out of hand.

Mice: The resident raptors consume about 8,000 lab mice a year of different sizes, ages and colors. Donated and purchased.

Raptor Round-Up Newsletter: Three times a year, printing 250 to mail out and on the web site in living color.

Freezer Space: Up to a dozen boxes of chickens, squirrels, mice and meat stored at a local freezer locker as well as two smaller freezers running non-stop at our facilities.

Enclosure Maintenance: Year round costs include predator-proofing, perches, bathing pools and feeding stations. At Raptors of the Rockies, the bird's comfort, health, and safety is our primary concern.

Daily care: 365 days a year we procure and butcher food, feed and water our birds, keep things tidy and, above all, keep an eye on the bird's health.

Insurance: We are required to have insurance in order to allow birds of prey in the classroom, and Workers Comp considers us a "poultry producer" with a big premium.

Mileage: 8,000 driving miles last year on our "raptor-mobile," Subaru number 6!