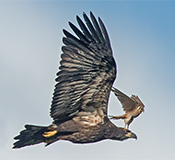 My favorite photo - a newly fledged Bald Eagle has a feisty American Kestrel take a ride for a second, taken at the river behind the house.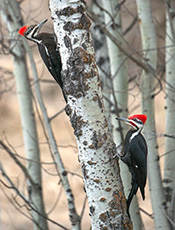 Pileated Woodpecker pair in the front yard. New photos nearly every day on our Blog page!



Things are always hopping at the Raptors of the Rockies organization. We're taking care of the birds and maintaining their enclosures, we're conducting raptor programs at local schools and organizations across Western Montana, art is flying out of the studio, we're taking photos and shooting video, we're out in the field birding and/or doing research, and much, much more.

To help you keep up with the flurry of activities happening at Raptors of the Rockies, we're blogging on a more-or-less daily basis and our most recent posts are listed below. Enjoy!
---
Sib the Good GirlPosted: Sat, 18 Sep 2021

Sibley was perfect for her Zoom program yesterday for the Montana Book Festival, and so was Sonora the Aplomado Falcon. Me so proud.
---
Book AwardPosted: Fri, 17 Sep 2021

Here is what I was presented for winning the Montana Book Award Grand Prize in 2011 for Raptors of the West with Rob Palmer and Nick Dunlop! "Rancho DeLuxe" is a favorite movie that a friend took me to see when I was in high school. He thought it would change my decision to move to Montana for college, and man, was he wrong! The poster is signed by the movie's writer, Thomas McGuane. I met him at the Montana Book Festival the year before and I told him that story, the whole time with Sibley on my glove. I doubt he heard a word, and asked me at the end, "Tell me about that bird." HA!

Montana Book Festival program today on line at 1 pm



---
Montana Book Festival 2021 Goes VirtualPosted: Mon, 13 Sep 2021

Had to be done, and much prefer live and in person. I will present an overview of my program, photos and books, emphasis on Falcons of North America Second Edition, my favorite, from Mountain Press Publishing here in Missoula. We'll have a Powerpoint and visit with Sibley the Peregrine and Sonora the Aplomado Falcon, Friday September 17th, 1-2 pm. You may register at the Festival website - see you on Friday (I wish...)
---
PigeonsPosted: Mon, 13 Sep 2021
---
Painting TimePosted: Sat, 11 Sep 2021

Shifting gears from the ink and printing press, and now gouache paint and Arteza Brush Pens. I usually paint two at a time, edition of 8 and almost ready to post the final product. On the screen is an Owen face I am using for reference. This is so fun, stand up comedy on the speakers (Bill Burr and Lewis Black today.)
---
Osprey AgainPosted: Fri, 10 Sep 2021

Here's that same bird with a nice whitefish, apparently unfazed by the broken feathers.
---
Hawk/Dog WalkPosted: Wed, 08 Sep 2021

Maizee and Nico just down the road for a little recreation. That's our house just above the left edge of the roof-rack.
---
Etching DayPosted: Tue, 07 Sep 2021

My new etching of a Saw-whet Owl, and Maizee was helping me in the printmaking studio today. I will post when I get the painting just right, edition of 8, 8" x 10". That black and white "bedspread" is actually a giant woodcut print, made by me and Bev Glueckert for the Day of the Dead Parade 18 years ago! Printed on a big sheet, inking and running it over with a steamroller; a treasured piece for me, located in the studio.












---
River TimePosted: Fri, 03 Sep 2021

An adult male Osprey with several broken feathers. That sure won't be helpful in the upcoming (soon) migration, at least 1000 miles one way. Gotta love an Osprey, about my favorite.

This is about how deep the Bitterroot River was this summer, Nico's knees.
---
Off On the Art MobilePosted: Tue, 31 Aug 2021

Our friend Renee Taaffe came by the Raptor Ranch to choose an art piece to include for the traveling Art Mobile of Montana, and she chose "Peregrine Cliff Redux." My etching will join 21 other works by contemporary Montana artists for the Art Mobile, 2- and 3- dimensional pieces. Renee is the teaching artist and hits the road in October, visiting more than 50 schools across the state. Glad our Peregrine will be on board!