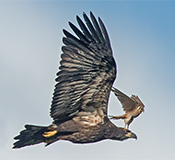 My favorite photo - a newly fledged Bald Eagle has a feisty American Kestrel take a ride for a second, taken at the river behind the house.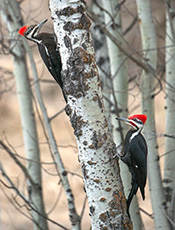 Pileated Woodpecker pair in the front yard. New photos nearly every day on our Blog page!



Things are always hopping at the Raptors of the Rockies organization. We're taking care of the birds and maintaining their enclosures, we're conducting raptor programs at local schools and organizations across Western Montana, art is flying out of the studio, we're taking photos and shooting video, we're out in the field birding and/or doing research, and much, much more.

To help you keep up with the flurry of activities happening at Raptors of the Rockies, we're blogging on a more-or-less daily basis and our most recent posts are listed below. Enjoy!
---
Mose Smiles!Posted: Fri, 30 Sep 2022
---
Nico TonightPosted: Wed, 28 Sep 2022

Going through boxes and boxes of photos and memorabilia from Mom's house, this all to discard, and Nico wants to play ball!

---
Pals, MostlyPosted: Mon, 26 Sep 2022

The same turkey feather as last Sunday!
---
Neighborhood NestPosted: Sat, 24 Sep 2022

Our neighborhood is prime Red-tailed Hawk country, the local pair very vocal, and chicks most years (except last.) I took friends Dan and Sue Varland down to look at the nest, nearly the size of a Volkswagen bug, only to find it crushed on the ground under the host cottonwood tree. Big winds out of the west and nest no more. Thank goodness the chicks had fledged, and hopefully they will rebuild. I love those guys, but they aren't screaming all day long in our yard.
---
Play PlayPosted: Wed, 21 Sep 2022

Nico is warming up to the idea of a house/playmate
---
New Family MemberPosted: Mon, 19 Sep 2022


We just picked up the 7 week-old Labrador from our friend Leesa Jones in Stevi. Tom named him Mose and will take some getting used to, a male dog! What a trip. Nico doesn't quite know what to think, yet.
---
Lone Pine State Park, KalispellPosted: Wed, 14 Sep 2022




The Bird of Prey Festival this Saturday! Cancelled the last two years with COVID, and back. Lone Pine State Park, Kalispell 8 am- 2 pm. Awesome activities and speakers all day. We are the Keynote at noon, free and open to everyone. Birds and books, beginning with a nice Powerpoint, Peregrine, Aplomado and big owl that starred in a TED Talk. The redux since our keynote in 2013, photos here:
---
Smoke Capital of MontanaPosted: Tue, 13 Sep 2022

Welcome to the beautiful Bitterroot Valley! Yikes.
---
Frost?Posted: Fri, 09 Sep 2022
---
LOGO!Posted: Tue, 06 Sep 2022

Our friend Gary Matson asked if I could design a logo for Missoula Conservation Roundtable, and right away I thought of a falcon sculpture I made, hanging on our deck. I won the Lifetime Conservation Achievement Award in 2017, the greatest honor of all! Thanks Erick Greene for the nomination and here is what I came up with: