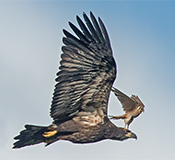 My favorite photo - a newly fledged Bald Eagle has a feisty American Kestrel take a ride for a second, taken at the river behind the house.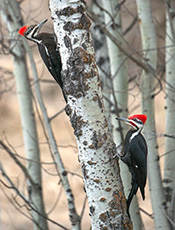 Pileated Woodpecker pair in the front yard. New photos nearly every day on our Blog page!



Things are always hopping at the Raptors of the Rockies organization. We're taking care of the birds and maintaining their enclosures, we're conducting raptor programs at local schools and organizations across Western Montana, art is flying out of the studio, we're taking photos and shooting video, we're out in the field birding and/or doing research, and much, much more.

To help you keep up with the flurry of activities happening at Raptors of the Rockies, we're blogging on a more-or-less daily basis and our most recent posts are listed below. Enjoy!
---
Raptors and Art Camp FinalePosted: Sat, 19 Jun 2021

Here are the MAM campers and their creations - paper mâché raptors ranging from an Osprey and Snowy Owl to several Sibley's and Owens. Great work and fun, Bev, and kids.

---
Stoneflies!Posted: Fri, 18 Jun 2021

This Peregrine, fastest predator in the world, was catching stoneflies over the river yesterday! Jay Sumner and I wrote a paper about this behavior in 2007, only observed at four nests total...in the world, three in Montana and one in Idaho! The largest of these stoneflies is the salmonfly, body as big as your pinky finger, and will go search for that hatch next, but may have missed it. Fisherperson's delight.

---
Take a PeekPosted: Thu, 17 Jun 2021
---
MAM CampPosted: Wed, 16 Jun 2021

Perhaps the best artists ever in our annual Raptors and Art Camp at the Missoula Art Museum this year, masks and all! I just looked it up and the first class I did there was in 1994 for 65 children and adults - before I even had a computer. All records were written in longhand! Thanks Bev Beck Glueckert and I know she and I have been doing this about 20 years. I'll look that up next. Center is model Sonora the Aplomado, bottom is Talon the young artiste.
---
And EaglesPosted: Tue, 15 Jun 2021
---
Operation: Bridge InstallmentPosted: Tue, 15 Jun 2021

Back in place thanks (mostly) to Heidi Sedivy and grad students, our first ROTR board member Deb Fassnaught and her grandkids. I warned them when they come over for a visit...some of us will get wet.

---
EaglesPosted: Sat, 12 Jun 2021

Finally a photo of the nest mates together, quick trip to the river last night. I gave up waiting for the parents. These two will stay put for about four weeks as they hatched around the 15th of March. Track record for this nest, popular fledging date is the 4th of July, and I think this will be a little later. We'll see.
---
Favorite Vulture SpottedPosted: Fri, 11 Jun 2021
---
Favorite Songbird SpottedPosted: Thu, 10 Jun 2021

Finally saw a Bobolink yesterday, a male singing away and hope a female is out there somewhere. They have been absent from the area the last two summers, disturbing. It is said that they look like they are wearing a tuxedo, on backwards, and have been called the "skunk blackbird." Bobolinks have one of the longest migrations of a New World songbird, traveling over 12,000 miles round trip, all the way to Bolivia and Paraguay, most overwintering in north-east Argentina! Hard to imagine.

---
Last NightPosted: Wed, 09 Jun 2021

First time on the beach in a while, a glimpse of one of the young. They'll be in there another month before they fledge, Big Babies!