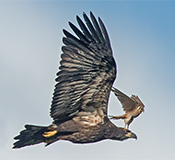 My favorite photo - a newly fledged Bald Eagle has a feisty American Kestrel take a ride for a second, taken at the river behind the house.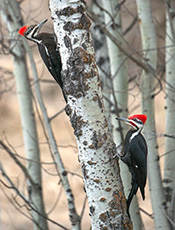 Pileated Woodpecker pair in the front yard. New photos nearly every day on our Blog page!



Things are always hopping at the Raptors of the Rockies organization. We're taking care of the birds and maintaining their enclosures, we're conducting raptor programs at local schools and organizations across Western Montana, art is flying out of the studio, we're taking photos and shooting video, we're out in the field birding and/or doing research, and much, much more.

To help you keep up with the flurry of activities happening at Raptors of the Rockies, we're blogging on a more-or-less daily basis and our most recent posts are listed below. Enjoy!
---
Magpie SiblingsPosted: Wed, 27 Jan 2021

Four omnipresent magpies are surely siblings - all four revising their "birth" nest over and over (and over) again. It's just outside my window, a half-a-stones-throw away, and here are two of them perched on my Red-tailed Hawk sculpture at the base of the tree. My guess is that these four of the original six are the survivors, to carry on as only corvids can do. I love these guys.
---
Back to MPGPosted: Sun, 24 Jan 2021

We just had a flight at the MPG Ranch across the river, first time in five years I'll bet. Sibley got up about 300 feet goofing off with a Red-tail, and they drifted east, just specks. Nico and I checked out the view from the top of the cut bank, then I got out the whistle and lure. A black spot fell from the sky, at first I didn't know what I was seeing, then Sibley blew by me pulling out of a stoop at 80 mph! She banked over the slough and back to the glove, what a trip. I squealed I think. So, the horizon Bitterroots are from the left— St. Mary's Peak, the Kootenai Crags and Little St. Joe's. Our house is down there somewhere just behind there tailgate. HA!

Now, Go Packers!
---
Off To the Printers!Posted: Fri, 22 Jan 2021

Our book Falcons of North America Second Edition is in the mail, on the way to Versa Press in Peoria, U.S. of A. My last two books from Mountain Press Publishing Company, Missoula have been printed in the U.S. but traditionally many publishers sent their product to Hong Kong, with reduced costs and excellent quality. Americans have since surpassed and shipping sure is easier. A dock strike in the Seattle seaport for my first book in 2002 delayed its release a month or so! Anyway, in production soon, out in late March, and the stats:

7 1/2" x 9 1/2" 264 pages, more than 260 photos with 160 new ones. 13 years of New Science
---
Sonora the Aplomado Says,Posted: Wed, 20 Jan 2021

"Hey Kate! Wash your windows!" Photo from today looking inside through the glass at a little falcon perched on a jade plant in the office. HA!
---
Sunday With SibleyPosted: Mon, 18 Jan 2021
---
Here, Nico!Posted: Mon, 18 Jan 2021
---
TrafficPosted: Fri, 15 Jan 2021

SnowBowl from Brooks, Kootenai Crags from Highway 93.
---
8 am MondayPosted: Mon, 11 Jan 2021
---
Falcons Book EditsPosted: Thu, 07 Jan 2021

Today, Sonora the Aplomado was helping with the very last edits for the book, Falcons of North America Second Edition. "Corrections/inquiries/opinions" offered by heroes Hans and Pam Peeters. All heeded, treasured changes, and the perfect finale to the process. Out soon!
---
Sib Across the Street TodayPosted: Wed, 06 Jan 2021

Thanks Mike Deneve! Love flying there. Well, Sib does.