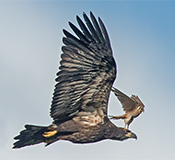 My favorite photo - a newly fledged Bald Eagle has a feisty American Kestrel take a ride for a second, taken at the river behind the house.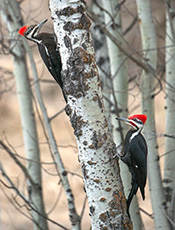 Pileated Woodpecker pair in the front yard. New photos nearly every day on our Blog page!



Things are always hopping at the Raptors of the Rockies organization. We're taking care of the birds and maintaining their enclosures, we're conducting raptor programs at local schools and organizations across Western Montana, art is flying out of the studio, we're taking photos and shooting video, we're out in the field birding and/or doing research, and much, much more.

To help you keep up with the flurry of activities happening at Raptors of the Rockies, we're blogging on a more-or-less daily basis and our most recent posts are listed below. Enjoy!
---
Florence ElkPosted: Tue, 28 Nov 2023

Our local elk herd seems to know that hunting season ended yesterday!
---
Frosty MorningPosted: Sun, 26 Nov 2023
---
Brand New OnePosted: Fri, 24 Nov 2023

Dry-point etching with gouache paint and graphite, Mischa the Peregrine 10 1/2" x 9" and a fun one to work on. Officially too cold to run these prints in the studio over the garage so thinking of bringing the printing press and all the stuff inside for the winter.
---
Happy Thanksgiving!Posted: Thu, 23 Nov 2023
---
Pipes?Posted: Tue, 21 Nov 2023

We bought this place in 2001, a 1977 single story remodeled (mostly) by Greg Schultz before he passed it on to us. The bathroom however was awful and finally our friend John Nickelsen is doing a special remodel, here the junk in the yard. And what was up with the plumbing? Check this out 11 elbows leading into the main water system all these years! Fixed and now...water pressure!
---
Just NowPosted: Mon, 20 Nov 2023
---
Ted To the RescuePosted: Fri, 17 Nov 2023

Long-time friend (like 28 years!) Ted Eiseman offered to help with some Raptor Ranch construction and I immediately thought of the eagle enclosure. The roof was caving in and Ted installed the new 1/2" plywood, plus roofing and aluminum drip edges. The eagles didn't mind him in there, even with the air gun and staples! Thanks Ted, perfect, and he took home some artwork.
---
SibPosted: Tue, 14 Nov 2023
---
New Newsletter #62Posted: Mon, 06 Nov 2023

A week to write, minutes to read...always say that but this is my favorite one so far.

https://www.raptorsoftherockies.org/.../newsletter62.pdf
---
Frosty Fish HawkPosted: Fri, 03 Nov 2023

Our pal Dr. Erick Greene reports that he saw an Osprey on Monday, Oct 30th. That is the latest sighting I can recall, migrating south a month ago. Bet it was a youngster from up north coming through, adults leave sooner. Remarkably, they stay on the non-breeding ground the first spring and don't migrate back. I can only think of one other raptor that does that, a hawk-eagle or something I recall. My Osprey record is October 21st in the back yard: