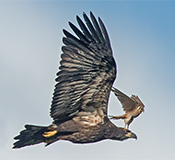 My favorite photo - a newly fledged Bald Eagle has a feisty American Kestrel take a ride for a second, taken at the river behind the house.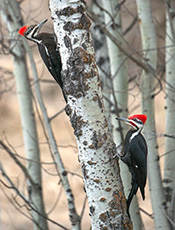 Pileated Woodpecker pair in the front yard. New photos nearly every day on our Blog page!



Things are always hopping at the Raptors of the Rockies organization. We're taking care of the birds and maintaining their enclosures, we're conducting raptor programs at local schools and organizations across Western Montana, art is flying out of the studio, we're taking photos and shooting video, we're out in the field birding and/or doing research, and much, much more.

To help you keep up with the flurry of activities happening at Raptors of the Rockies, we're blogging on a more-or-less daily basis and our most recent posts are listed below. Enjoy!
---
Hummer Kick-BoxingPosted: Mon, 08 Aug 2022
---
3 Months Old TodayPosted: Sun, 07 Aug 2022

And our 41st tour of the year, Man O Man.
---
Bass Creek 2009Posted: Sun, 07 Aug 2022

A photo by Keith Fialcowitz, checking out a Peregrine eyrie!
---
Waspy ShotPosted: Wed, 03 Aug 2022

Wonder what this is, I guess a wasp. I love the Kaufman "Field Guide to Insects of North America," my favorite. Check out page 304 that talks about how blow flies are used in criminal forensic science to determine time of death!



---
Misch In TrainingPosted: Tue, 02 Aug 2022

Flying on a line from perch to perch, to lure and to glove. Today Nico dropped a stick at her feet a few times for her to toss. I am not kidding. Smart dog.
---
Love a GBH!Posted: Sat, 30 Jul 2022
---
Today's Find at my Mom'sPosted: Fri, 29 Jul 2022

I think I made this when I was 7 or 8 when we lived in Connecticut. It lived in our living room!
---
Jane with MischaPosted: Wed, 27 Jul 2022

Mom Jane is the real photographer, I was just kidding.
---
Wylie HollingsworthPosted: Mon, 25 Jul 2022

Our favorite photographer, and 2 years old in September. HA!!!!!
---
Tree Swallows RULEPosted: Sat, 23 Jul 2022