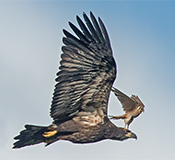 My favorite photo - a newly fledged Bald Eagle has a feisty American Kestrel take a ride for a second, taken at the river behind the house.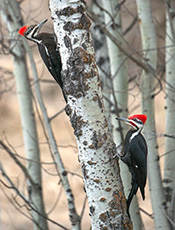 Pileated Woodpecker pair in the front yard. New photos nearly every day on our Blog page!



Things are always hopping at the Raptors of the Rockies organization. We're taking care of the birds and maintaining their enclosures, we're conducting raptor programs at local schools and organizations across Western Montana, art is flying out of the studio, we're taking photos and shooting video, we're out in the field birding and/or doing research, and much, much more.

To help you keep up with the flurry of activities happening at Raptors of the Rockies, we're blogging on a more-or-less daily basis and our most recent posts are listed below. Enjoy!
---
Just NowPosted: Mon, 25 Sep 2023

Happy Monday!
---
Dragonflies!!Posted: Sun, 24 Sep 2023
---
White-tailPosted: Fri, 22 Sep 2023

A deer right in the yard in the last BLOG. Looks like I forgot to post for a week...oops.
---
This MorningPosted: Sun, 17 Sep 2023
---
Peeking WoodpeckerPosted: Thu, 14 Sep 2023

I was just getting ready to paint some etchings here in the office and heard a "knock knock knock" on the side of the house. I thought it was Tom alerting me of some action in the yard, but found this male Pileated Woodpecker making the rounds, pounding on the house and peeking in the window. So funny when he tried to land on the metal Gyrfalcon sculpture out back and slipped down to the ground. Here he is, spying in the window and Nico the dog at my feet ready to pounce.
---
Mischa at 3 Months OldPosted: Mon, 11 Sep 2023

---
Mischa All Growed UpPosted: Sun, 10 Sep 2023

Our beloved Peregrine Mischa is almost finished with the molt, from a "brownie" to adult plumage. Sub-species anatum or Continental Peregrine, she is Sibley's cousin and now look-alike. One-year-old in May, she will be flying very soon. Training involves a motive=food and she has been chowing down on quail all summer as those feathers grow. Next she will be on a diet=organic chicken meat. If she is anything like Sib, food means little and it's a bonding (imprinting) that keeps her hanging around. Not very falconry-y I know and we shall see. Looking forward to the season, and lasts until the end of March.
---
Cool CoopsPosted: Sat, 09 Sep 2023

Adult Cooper's Hawk on the chicken coop. Okay, pigeon coop, and been hanging out the last few days. She's standing just above the one-way door that the pigeons use to re-enter the loft after flying around the neighborhood for a while, several times a day. The aluminum bar allows them in but not out. Their larger cousin the Northern Goshawk caught one years ago. I have seen the racing pigeons put on the brakes and have predators fly right by, fooled by their "food."
---
Turkey YardPosted: Wed, 06 Sep 2023

These two hen turkeys have been hanging out with their offspring, and the dogs pay no attention. An introduced species, the first transplants to Montana were in the mid 1950's from Colorado and Wyoming. An exotic gamebird, and two hunting seasons - spring gobblers and either sex in the fall. I am glad that Sibley the Peregrine has never paid any attention to them on our ex-exercise ground (we were kicked off by the new owner who wants to make a cattle ranch like Kevin Costner. Don't get me started...)
---
Sonora the Aplomado FalconPosted: Mon, 04 Sep 2023

We love Sonora and she is currently perched right here on the bookshelf while I replace the pine needles in her building. This is a photo of her at the Missoula Art Museum in June, Birds and Art Camp with young artist Isla. Sonora is thinking "I can't wait to get home..." and at the bottom it says, "and she got lost in Idaho." Which she did, flying her in falconry as a youngster fresh from the Peregrine Fund - 2013, trying to catch Eurasian Collared Doves. She flew from our neighborhood to the Idaho border, two nights out, chasing every bird that flew by. So no more flights (outside) for her.