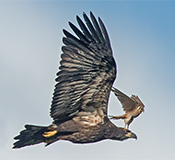 My favorite photo - a newly fledged Bald Eagle has a feisty American Kestrel take a ride for a second, taken at the river behind the house.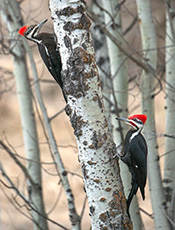 Pileated Woodpecker pair in the front yard. New photos nearly every day on our Blog page!



Things are always hopping at the Raptors of the Rockies organization. We're taking care of the birds and maintaining their enclosures, we're conducting raptor programs at local schools and organizations across Western Montana, art is flying out of the studio, we're taking photos and shooting video, we're out in the field birding and/or doing research, and much, much more.

To help you keep up with the flurry of activities happening at Raptors of the Rockies, we're blogging on a more-or-less daily basis and our most recent posts are listed below. Enjoy!
---
Happy Birthday, Jay!Posted: Fri, 31 Mar 2023

Happy 80th Birthday Jay Sumner, Montana Peregrine Man! And one Peregrine we saw up the Blackfoot today, despite the blizzards.
---
16 mm Home MoviesPosted: Thu, 30 Mar 2023

Brother Jonathan's son Zach is a movie/photography buff and took boxes of old 16mm films from Mom's house to turn them in to playable films on the computer! 1962!!!! Baby Jon, KT, and Dad Carlos! Wow, more to come and this is just the first...Thanks, Zach!
---
Sunday Ravalli RepublicPosted: Sun, 26 Mar 2023

Thanks to our new pal, managing editor and reporter Jessica Abell for the Sunday Story! And photos...
https://ravallirepublic.com/news/local/of-fate-and-falcons-kate-davis-looks-back-on-50-years-of-conservation-education/article_61270b68-ca9a-11ed-87a8-2b807314d610.html#tracking-source=home-top-story
---
TED TalkPosted: Sat, 25 Mar 2023

One easy way to see the TED Talk and the Sibley Tower of Power video is on our web site, About page.
---
PowerPointPosted: Sat, 25 Mar 2023

I was so happy to meet with my TED Talk Coach from 2015, Hipolito Rafael Chacon yesterday to run my PowerPoint for the Cincinnati Zoo Gig by him. Great, excellent suggestions and added this old photo for the section on raptors and indigenous beliefs. Next, the TED Talk!

---
Incoming!Posted: Wed, 22 Mar 2023
---
Cincinnati Zoo!Posted: Mon, 20 Mar 2023

In just under a month I am off to the Cincinnati Zoo for an engagement with the Barrows Conservation Lecture, Wednesday, April 19:

Kate (Phillips) Davis began her avian-loving life here at the Cincinnati Zoo with the Junior Zoologist Club (JZC) and mentor Barry Wakeman. Then only 13 years old, the JZC has influenced every aspect of her life since. Kate founded the education program Raptors of the Rockies 35 years ago and still runs the program from the banks of the Bitterroot River in Western Montana. Along for the ride are a dozen non-releasable and falconry birds, the stars of nearly 2000 programs. They are family and the sources of inspiration for her drawings, paintings, etchings, welded steel sculptures, photography, and writing. Kate has authored and illustrated seven books, including Falcons of North America and Raptors of the West.
---
Sib TodayPosted: Sun, 19 Mar 2023

Sibley started to chase some ducks and then remembered that waterfowl season is over.
---
Hamilton HighPosted: Fri, 17 Mar 2023

The seniors at Hamilton High School, science students, my favorite kids ever with teacher Vanessa Haflich on the right. Great fun today!
---
Sunday SibPosted: Tue, 14 Mar 2023