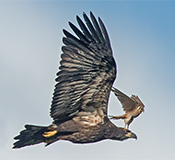 My favorite photo - a newly fledged Bald Eagle has a feisty American Kestrel take a ride for a second, taken at the river behind the house.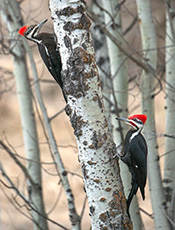 Pileated Woodpecker pair in the front yard. New photos nearly every day on our Blog page!



Things are always hopping at the Raptors of the Rockies organization. We're taking care of the birds and maintaining their enclosures, we're conducting raptor programs at local schools and organizations across Western Montana, art is flying out of the studio, we're taking photos and shooting video, we're out in the field birding and/or doing research, and much, much more.

To help you keep up with the flurry of activities happening at Raptors of the Rockies, we're blogging on a more-or-less daily basis and our most recent posts are listed below. Enjoy!
---
Brand New EtchingPosted: Thu, 05 Aug 2021

My new print, Sibley the Peregrine on a cliff in the Blackfoot River. 13" x 9 1/2" etching on plastic, printed with the blue sky rolled in with brayers. Then painted with gouache paint and Arteza Brush Pens. "Peregrine Cliff Redux" and plan on an edition of 8. Always do 8 for some reason.

---
Down Everywhere!Posted: Tue, 03 Aug 2021

Maizee has lost nearly all of her down feathers...all over the house. Where I shake out her blankets from the playpens, the lawn looks like we had snow flurries.
---
Maizee TodayPosted: Sun, 01 Aug 2021

She will join us a week from today at Nine Mile Community Center for her first program!
---
Sonora Found the TOY TodayPosted: Wed, 28 Jul 2021



---
Mergansers Know They Are CoolPosted: Tue, 27 Jul 2021
---
ToysPosted: Sun, 25 Jul 2021
---
Maizee at 27 (Days)Posted: Fri, 23 Jul 2021
---
FamilyPosted: Thu, 22 Jul 2021

Parent (father perhaps) and daughter. Yes, the two fledgling Bald Eagles are often perched on top of the eagle enclosure, and are huge compared to our two male eagles. Larger size equals females.
---
24 Days old!Posted: Thu, 22 Jul 2021
---
Pals - Nico and MaizeePosted: Tue, 20 Jul 2021