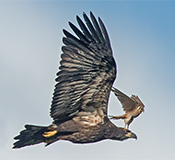 My favorite photo - a newly fledged Bald Eagle has a feisty American Kestrel take a ride for a second, taken at the river behind the house.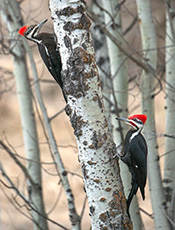 Pileated Woodpecker pair in the front yard. New photos nearly every day on our Blog page!



Things are always hopping at the Raptors of the Rockies organization. We're taking care of the birds and maintaining their enclosures, we're conducting raptor programs at local schools and organizations across Western Montana, art is flying out of the studio, we're taking photos and shooting video, we're out in the field birding and/or doing research, and much, much more.

To help you keep up with the flurry of activities happening at Raptors of the Rockies, we're blogging on a more-or-less daily basis and our most recent posts are listed below. Enjoy!
---
Books!Posted: Thu, 06 May 2021

Webmaster Steve Palmer has created a wonderful page and way to purchase books directly from the author! Check it out!
---
Beach PartyPosted: Wed, 05 May 2021

The male brought in a Columbian Ground Squirrel (yea!) and feeding at least one chick but never got a good peek. And White-faced Ibises!
---
Nico and the BridgePosted: Mon, 03 May 2021

Hope our bridge across the slough heading down to the river doesn't float and have to be re-installed when the water drops; 18 of 20 years this has happened. Nico and The Bridge.
---
Project Number 2Posted: Sat, 01 May 2021

Okay, back photographing the eagle nest after a three year hiatus, not of my choosing but of the eagles. She is feeding at least one here, unfortunately blocked by nest material. Project Number 1 is a new dry-point etching (Peregrine Flight) and Number 3 is photographing the Red-tailed Hawk nest. Gotta get your ducks in a row, so to speak.
---
Owen the Saw-whet is the StarPosted: Thu, 29 Apr 2021
---
A REAL ProgramPosted: Wed, 28 Apr 2021

First REAL program since last February 2020 (Zooms don't count) and 52 kindergartners at Florence Elementary today, courtesy Mrs. White. Sib and Owen and question number one from the kids: "Can your falcon do any tricks?" Answer: "Yes, steal hats off peopleís heads and fly away." So glad to be back at it!
---
Kestrel Namesake's BirthdayPosted: Sun, 25 Apr 2021

Another jazz birthday, Ella Fitzgerald's is today, our American Kestrel named for her when she joined us eight years ago. Ella is the best vocalist, ever, period. Ella the kestrel here with a mouse and her brother Wes (Montgomery, best guitarist ever) share the building by the eagles, singers in their own style.

The opinions expressed within the content are solely the authorís and do not reflect the opinions and beliefs of the website or its affiliates.
---
Big GuyPosted: Sun, 25 Apr 2021

The big guy in the neighborhood, while she's in the nest - looking like a week since chicks started hatching. Stay tuned, this will be fun!
---
BelterPosted: Sat, 24 Apr 2021

Belted Kingfisher on the beach. For this species, the females sport a nice belt.
---
Jazz Hero Mingus BirthdayPosted: Thu, 22 Apr 2021

Happy Birthday, Charles Mingus! He would have been 99 this Earth Day, and here I am doing "Jazz Sessions" with Annie Garde at Montana Public Radio two years ago, filling in for Terry Conrad. Sib also digs Mingus, has since she was a chick.