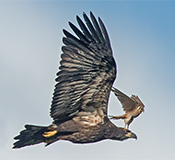 My favorite photo - a newly fledged Bald Eagle has a feisty American Kestrel take a ride for a second, taken at the river behind the house.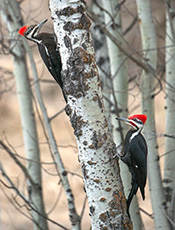 Pileated Woodpecker pair in the front yard. New photos nearly every day on our Blog page!



Things are always hopping at the Raptors of the Rockies organization. We're taking care of the birds and maintaining their enclosures, we're conducting raptor programs at local schools and organizations across Western Montana, art is flying out of the studio, we're taking photos and shooting video, we're out in the field birding and/or doing research, and much, much more.

To help you keep up with the flurry of activities happening at Raptors of the Rockies, we're blogging on a more-or-less daily basis and our most recent posts are listed below. Enjoy!
---
A Sad PassingPosted: Tue, 20 Oct 2020

We finally put to rest my dictionary, a gift from my Mom in 1978 when I left high school in Cincinnati to attend college in Missoula. A trusty friend all these years and time to retire. Goodbye, loyal pal, soon in the landfill, also in Missoula.
---
Oh No, The Aspens Are Starting Up Again!Posted: Sun, 18 Oct 2020
---
Blackbirds!Posted: Sun, 18 Oct 2020

I was just getting back from a falcon fly with Sib and Nico and thought I would get a photo of the nice larch trees and sculptures by the driveway. Right when I hit the shutter a huge flock of blackbirds flew by. Bet there was a Merlin in there somewhere.

.
---
View Across the RoadPosted: Fri, 16 Oct 2020



---
What a Carving!Posted: Wed, 14 Oct 2020

I got an email from Wildlife Biologist and artist Scot Franklin, and my eyes popped when I saw the attachment. A mahogany Bald Eagle/Kestrel, WOW. He writes, "I do woodcarvings, and when I saw the kestrel attacking eagle photo in the 2017 MT Outdoors photo issue, I pretty much instantly knew that was going to be my next carving. How in the world did you get that shot?? I mostly need a good scene with a straight on side view to carve and there it was." It took him three years, 18" x 13" x 1 3/4" and now graces his wall (or his girlfriend's, can't decide!) Scot is a fellow 1980's U of M Grad and works for the BLM in Butte, and this made my day. No, year.

ps, Scot wrote: "Glad I could make your day. Doesn't take much to make somebody's year in 2020. Credit yourself for giving me the inspiration!"
---
Sunday ShotsPosted: Mon, 12 Oct 2020

The Bald Eagles were back at their nest tree, and Sibley flew all over the place at One Horse Creek. And working on the Falcons book, layout and design begins this week.
---
Wrong State, BuddyPosted: Sun, 11 Oct 2020

We have had two and three Blue Jays showing up here, mostly in the fall and spring and heard them before I spotted them. "Hey, thats a bird call from my past," like Ohio. These eastern birds are showing up more often around Montana, highly adaptable, intelligent and great mimics - wait 'till you hear their Red-tail imitation. These ones are shy and I have been trying to get some photos, this through the glass from the office. More on the way.
---
October EaglesPosted: Sat, 10 Oct 2020

I love this time of year, the colors, and a visiting young Bald Eagle on the building today with Sonny and Nigel, there all morning. In 2012 four fledgling Bald Eagles were lined up, three from the nest across the river and one stray. And no, I don't feed them, the wild eagles that is. They are mostly curious I think, and never a problem with our birds.
---
Today!Posted: Thu, 08 Oct 2020

We have been flying every day at our favorite neighborhood spot, One Horse Creek for the last three weeks. Sib isn't done molting, is fat as can be, but flying like a pro and not landing all the time like at the beginning. Time to hunt 'em up, duck stamp in the vest.
---
HAPPY Wedding AnniversaryPosted: Wed, 07 Oct 2020


We have been married 31 years today. Yes and excellent!