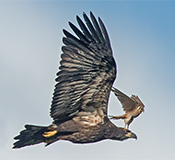 My favorite photo - a newly fledged Bald Eagle has a feisty American Kestrel take a ride for a second, taken at the river behind the house.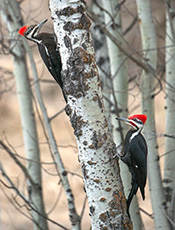 Pileated Woodpecker pair in the front yard. New photos nearly every day on our Blog page!



Things are always hopping at the Raptors of the Rockies organization. We're taking care of the birds and maintaining their enclosures, we're conducting raptor programs at local schools and organizations across Western Montana, art is flying out of the studio, we're taking photos and shooting video, we're out in the field birding and/or doing research, and much, much more.

To help you keep up with the flurry of activities happening at Raptors of the Rockies, we're blogging on a more-or-less daily basis and our most recent posts are listed below. Enjoy!
---
What The Heck Is THAT?Posted: Tue, 31 Jan 2023

Just about the whitest Red-tail I've ever seen, and just a youngster with those light-colored eyes. Hopefully she'll be a Bitterroot Resident for a while.
---
13 Years and Same TemperaturePosted: Sun, 29 Jan 2023

We were hunting Sharp-tailed Grouse and pheasants first thing in the morning near Choteau exactly 13 years, the Rocky Mountain Front as a backdrop. With negative 8 degrees, Sibley just flew to the pole and pulled up a foot, then thumbed her nose at me and Jay Sumner. Yes, it was -8 ° last night so Sib was indoors, along with Mischa and Sonora the Aplomado... all on different perches! I have this photo framed in the bedroom, what memories.

---
Snowy OwlPosted: Sat, 28 Jan 2023

Right in the yard! Okay, my metal Jillian the Great Horned Owl, sculptures on the web site. A few inches of snow and not the 8 or so predicted, but below zero temps soon. Birds back in the house.
---
This MorningPosted: Mon, 23 Jan 2023

Looking southeast, and that's a Bald Eagle on top of the nest tree. We have a scope in the living room on this all year- it pretty much disappears when all of the cottonwoods leaf out. Incubation has started as early as March 5th!
---
MAM AuctionPosted: Thu, 19 Jan 2023

The Missoula Art Museum Auction is on Saturday, February 4th, tickets sold out after "virtual" auctions the last two years. However, if you missed out, you may bid on the Silent Auction pieces on line, and what a wonderful show! https://us.givergy.com/mam2023auction/?controller=home
---
Our Winter ResidentsPosted: Wed, 18 Jan 2023

A Bitterroot Rough-legged Hawk splits.
---
One MorePosted: Tue, 17 Jan 2023
---
Sib TodayPosted: Mon, 16 Jan 2023
---
Food ScaryPosted: Thu, 12 Jan 2023

I know you can't believe what it is like to run out of food, and last week we ran out of mice, chickens and quail were gone. Thank goodness supplies are in now, just 5 minutes ago 100 Coturnix Quail from Northwoods Falconry. I just bought chicken thighs from Winco today as a supply for the falcons, whew. Not this kind, a California Quail!
---
WOW!Posted: Sat, 07 Jan 2023