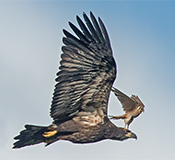 My favorite photo - a newly fledged Bald Eagle has a feisty American Kestrel take a ride for a second, taken at the river behind the house.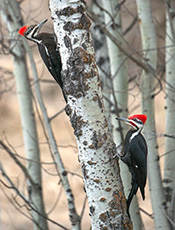 Pileated Woodpecker pair in the front yard. New photos nearly every day on our Blog page!



Things are always hopping at the Raptors of the Rockies organization. We're taking care of the birds and maintaining their enclosures, we're conducting raptor programs at local schools and organizations across Western Montana, art is flying out of the studio, we're taking photos and shooting video, we're out in the field birding and/or doing research, and much, much more.

To help you keep up with the flurry of activities happening at Raptors of the Rockies, we're blogging on a more-or-less daily basis and our most recent posts are listed below. Enjoy!
---
Mrs. White of FlorencePosted: Thu, 08 Jun 2023

One last little program for the nearly-1st-graders and Mrs. White was explaining the wayward Opossum of Nome Alaska, Grubby. A local celebrity, he hitched a ride on a shipping container from Washington State, check it out. We did a little presentation on "what skull is this?" the kids got them all with little coaching. Junior Zoologists. Have a great summer kids, and they promised they would spend it outdoors (all but one little boy, oh well.)
---
Whatever Could That Be?Posted: Sun, 04 Jun 2023
---
Magpie RanchPosted: Sat, 03 Jun 2023

Seems like all the magpie nests have fledged young in the last few days. I have lost track of how many nests, and 5 or 6 young in this tree by the office yesterday. They will beg for up to month, young recognizable by shorter tails and blue eyes, pink mouth linings- for begging! How they all fit in that domed stick nest, growing for 28 days, is a mystery to me. Must be a relief to "escape" but then it's a dangerous world out there.
---
MTPRPosted: Fri, 02 Jun 2023

Jazz Sessions with Annie Garde (and a half dozen visitors in the studio) and our favorite record. Just kidding - this is by far the worst from the big collection at my Mom's, wonder where that came from? We started with Ahmad Jamal "Poiciana" on LP, then Oscar Peterson, Monty Alexander, Bill Evans. Guitars with Wes Montgomery and Brothers, Kenny Burrell and Jim Hall, even Brazil 66, Stanley Turrenteen, and a little Miles, "Porgy and Bess." What fun. Trip home and went to bed, big day for me as still feeling really ill and new tests at the hospital next week.
---
Thursday, June 1Posted: Thu, 01 Jun 2023

I've had this day circled on my calendar forever, as a guest host on Montana Public Radio's Jazz Sessions with Annie Garde, 2 pm MST and left of the FM dial. I had tentatively cancelled due to my illness and one month today. Annie offered to spin my chosen discs but think I'll try to tough it out. Should be the most fun I've had this spring! Mischa was listening to some Jim Hall yesterday, lots of surprises, a couple of LP's and several with vocals.
---
Couple MorePosted: Mon, 29 May 2023

Top and bottom, kids in the Eagle Building, "because they are so pretty," and favorite was "when Sibley came out of her cage and the dogs came outside!"
---
Artists and HeroesPosted: Sun, 28 May 2023

The 2nd graders from local Lone Rock Elementary and teacher Julie Bachman surprised us with these thank-you letters Saturday. There I am with Sibley, love the dress. And student with his favorite, Simon the Great Horned Owl who "kept staring at me." Love these, more on the way!

---
Happy Birthday Miles Dewey Davis!Posted: Fri, 26 May 2023

My favorite jazz aficionado/composer/musician was born this day in 1926. Dad turned us kids onto Miles with endless reel-to-reel tapes when we were young. I named this Great Horned Owl Miles to honor the man, and with the same last name it was a natural. I remember one middle school boy jumped to his feet in a crowded gymnasium when I asked if anyone had heard that name. He stood and announced to all his classmates, "Miles Davis was my gym teacher in third grade!" Can you imagine, "do the jumping jax kids...."
---
Three Weeks Today...Posted: Thu, 25 May 2023

...since the total knee replacement surgery and can only get better as I have been really sick this whole time. I had a trip to the doctors' yesterday, and was told to pack and overnight bag and be prepared to be admitted to the hospital for a "procedure." Dodged the bullet and sent home, thank goodness, and told to take it easy. But I feel a little better today and cancelled two programs this week, four total, and sorry schools. We will make it up to you - promise. And what the heck is on the hummingbird feeder just now? A Bullock's Oriole!
---
Music LibraryPosted: Sun, 21 May 2023

A snapshot just now of Mischa helping me edit the CD's and make some sort of tidy, organized something. My 25-year-old stereo/amp/tuner died last week so I dug out the spare. And while you're at it, Kate, high-grade the thousand CD's that are filling that dresser and wall rack and boxes on the floor. Annie Garde and I are hosting Jazz Sessions on Montana Public Radio, 2-4 pm Thursday, June 1st, so selecting some gems to play. In the meantime Mischa is enjoying some OP - Oscar Peterson in memory of my Mom on this Sunday.