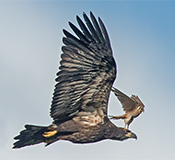 My favorite photo - a newly fledged Bald Eagle has a feisty American Kestrel take a ride for a second, taken at the river behind the house.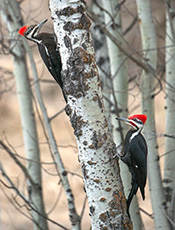 Pileated Woodpecker pair in the front yard. New photos nearly every day on our Blog page!



Things are always hopping at the Raptors of the Rockies organization. We're taking care of the birds and maintaining their enclosures, we're conducting raptor programs at local schools and organizations across Western Montana, art is flying out of the studio, we're taking photos and shooting video, we're out in the field birding and/or doing research, and much, much more.

To help you keep up with the flurry of activities happening at Raptors of the Rockies, we're blogging on a more-or-less daily basis and our most recent posts are listed below. Enjoy!
---
NEW BOOK!Posted: Wed, 14 Apr 2021

---
Vehicles for CharityPosted: Tue, 13 Apr 2021

We began reducing the size of our Subaru fleet by donating the 2002 Outback to Vehicles for Charity, and our charity happened to be Raptors of the Rockies 501(c)(3)! VfC are a non-profit based in Denver and they set up the account so that other people can donate their unused or unwanted car, truck, even camper to us. They even tow it away and 80% of money generated at auction goes to the non-profit of your choice. I loved this car and put a couple hundred thou on it in programs, falconry trips - everywhere for years. Next to go - the 2003 Subaru Outback (not Nico the dog, here!)
---
Ospreys Are Back!Posted: Fri, 09 Apr 2021
---
Top StoryPosted: Wed, 07 Apr 2021

Front page in the Ravalli Republic newspaper today and great story by Perry Backus, who has been covering the Raptor Ranch news for over a dozen years. Always a treat and coming up in the Missoulian as well!
---
Ice On the RiverPosted: Tue, 06 Apr 2021

Jay Sumner and I spent a day in the field looking for Peregrines, and this bit of the North Fork of there Blackfoot River, ice abounds. Two out of three cliffs occupied.






---
Dumb Old EaglesPosted: Sun, 04 Apr 2021

My laziness did not go unrewarded. I watched the female eagle get up and move around the nest from the house with binoculars for an hour, and finally grabbed the Big Camera for a walk. For one hour, 30 minutes at the beach, nothing. I said, 7 pm I'm done, so put the camera back in the bag, JUST as all heck broke loose. Missed most of it and one shot before I dejectedly returned home. Oh well. Four more months to go. Let's see...incubation began on March 15th...35 days and hatching...fledging on the 4th of July....hanging around a begging forever...okay, five months.
---
Webex!Posted: Sat, 03 Apr 2021

How 21st Century, and after some glitches on my end, Nick Dunlop began, I finished up - a killer program on photography and our new book. 147 folks registered and Kirsten Elliot reported: "Thank you for the incredible opportunity you provided to the HawkWatch International community yesterday! We even had one woman who attended—and ordered the book—all the way from Australia! She's willing to pay an extra $30 just to have it shipped to her!" My brother Jonathan was watching from New Jersey and sent these screen shots. What FUN and Sib and Sonora were stars! During the second hour of "Meet and Greet" we got the idea to produce updated posters for the schools. Next project, now at the tail end of the pandemic.
---
What an April Fools Day Party We Are Having!Posted: Wed, 31 Mar 2021

Hawkwatch International presents: "Intro to Raptor Photography with Kate Davis & Nick Dunlop!" Thursday April 1st at noon MST. An hour of instruction and discussion from the folks that brought you the book

Falcons of North America

. Fun in the virtual world and free! Just need to register click

HERE.
---
Nest RestPosted: Sun, 28 Mar 2021

The female was in the big nest yesterday, just the top of her head showing then she stood up, "Oh, you again!" I think she was just having a little rest, perhaps early for eggs, but who knows with these two.
---
Big DayPosted: Sat, 27 Mar 2021

Friday and first, Mom got her second COVID vaccine shot, hurray! We met some friends that were there three weeks ago, and one was Raptor Backer Fran Coover. Here's our first book sale, right there in the Lucky's parking lot. A fine beginning and order forms on line (and FaceBook) soon. Act now and get a free bookmark!