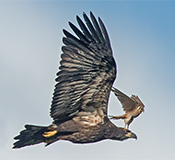 My favorite photo - a newly fledged Bald Eagle has a feisty American Kestrel take a ride for a second, taken at the river behind the house.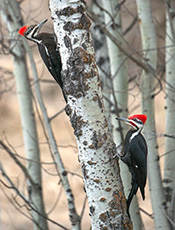 Pileated Woodpecker pair in the front yard. New photos nearly every day on our Blog page!



Things are always hopping at the Raptors of the Rockies organization. We're taking care of the birds and maintaining their enclosures, we're conducting raptor programs at local schools and organizations across Western Montana, art is flying out of the studio, we're taking photos and shooting video, we're out in the field birding and/or doing research, and much, much more.

To help you keep up with the flurry of activities happening at Raptors of the Rockies, we're blogging on a more-or-less daily basis and our most recent posts are listed below. Enjoy!
---
White-crowns In the YardPosted: Thu, 19 May 2022

Every spring I hear a bird song and try to remember the species. A few weeks a flock of these guys showed up and rather than stalking them through the woods, I got this photo in the driveway! White-crowned Sparrow song according to the Sibley Guide: a lazy feee odi-odi zeeeee zaaaa zooo. HA!
---
Red-tails Next-doorPosted: Mon, 16 May 2022
---
So So Close!Posted: Sat, 14 May 2022
---
Chinese Ring-necked PheasantPosted: Thu, 12 May 2022

A Phixture in the Phront yard, doing his mating thing.
---
Mothers DayPosted: Mon, 09 May 2022
My first Mothers Day without my Sally Mom, watching Peregrine up the Blackfoot every year. Her Blue Jay card!
---
Crane At the MAMPosted: Sat, 07 May 2022


My Sandhill Crane sculpture is currently living in the lobby of the Missoula Art Museum until October for the Big Show, Contemporary Folk Animals. Guess who else is in the show? My Mentor, the late Bill Ohrmann!
---
Another SculpturePosted: Sat, 07 May 2022
---
Danica the Rehab RavenPosted: Thu, 05 May 2022

We just had a new friend Danica drop off some meat for the birds, so I gave her this card of our rehab Raven and my sculpture in the yard, circa 2006.
---
Friday Night Beach PartyPosted: Sun, 01 May 2022

Watching the Bald Eagle nest through the scope from the house, I knew they were feeding young this week. It's just about the end of that view, with the cottonwood leaves starting to pop. The nest is just above my name, seen from the riverbank. Imagine my delight when two young showed their faces, then a third! This is the fourth time for three chicks since the nest was built in 2011. What fun this will be.
---
Jazz Rocks!Posted: Sun, 01 May 2022