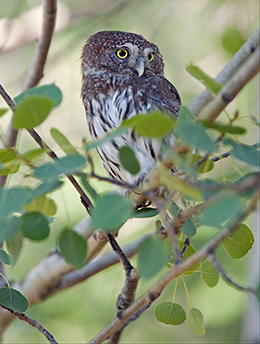 Glaucidium gnoma
Northern Pygmy-owls are part of the Strigidae family in the order Strigiformes. Click here to learn more...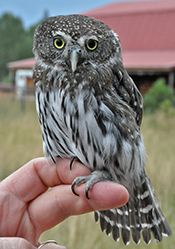 iPod the tiny owl has settled in nicely, joining us in 2010. Our previous Pygmy-owl DotCom was a program staple for over 9 years, and after he passed away we got a "replacement" owl from a Bitterroot rehabilitator. I swear, he's even smaller than DotCom. iPod got his name from our friend, Juergen Knoller who owns Bayern Brewing in Missoula. We have our Raptor Backer Appreciation Party at Bayern in the spring, and Juergen was asking about the birds. "How's that little one, iPod?" he queried, mistakenly referring to DotCom. So that's how he got the name.

iPod was struck by a car over the winter, and was kept indoors as the feathers grew back and the broken wing healed. He lost the tip of that wing, the joint with ten primary feathers so a keeper bird. He has been a program favorite, even appearing on stage with the University Symphonic Wind Ensemble for their "Chickadee Symphony." Surprise, surprise. Plus, his image appears on 119 Frontier Airline tails, loved by the owner Bill Franke. The universal audience response to iPod is, "Awwww!" and we remind everyone that Pygmy-owls are deadly predators that can kill animals, especially birds, twice their size. No vegans on the Raptors of the Rockies team.

This winter, iPod spent all of the severe cold indoors, a kennel in the sun by a window. He was still chowing on his little mice but staying put in one spot instead of different perches in his enclosure. After about four months, he passed away one night, outdoors where he had lived for 12 years. This has to be a longevity record, and very much missed at the Raptor ranch.