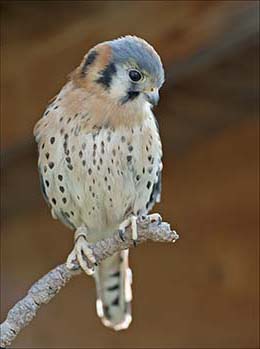 Falco sparverius
American Kestrels are part of the Falconidae family in the order falconiformes. Click here to learn more...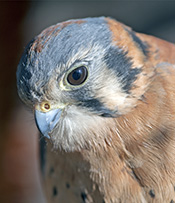 Wes the American Kestrel and his sister Ella are imprinted on people, confiscated from someone in Helena that had them as pets, against the law. They share a large enclosure with limbs, shelves and a tree. Both are hand fed mice, generously donated from a genetics lab, THANKS! The kestrels are particularly vocal, alerting us when wild Bald Eagles fly through the yard. "Killy, killy, killy..." Wes was the star at a recent school assembly in Missoula for 300 elementary-aged zoologists. He and his sister are named after jazz-heroes – Wes Montgomery is "the gold standard" for guitar!

Being so talkative comes in handy when he accompanies me for our bi-monthly visit to Montana Public Radio, Childrens' programming. On the daily hour of the show Pea Green Boat, host Annie Garde describes our birds for the listeners and a discussion of kestrels with Wes. He never disappoints with a trill, chirr of even killy, killy. Yes we really do have live birds on the radio.



Date Acquired: 12/18/2013