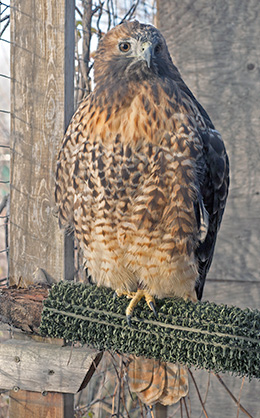 Buteo jamaicensis
Red-tailed Hawks are part of the Accipitridae family in the order Accipitriformes.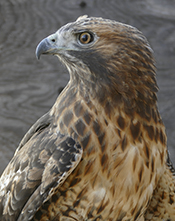 Here's a hawk with a story, even in the newspapers on June 28th entitled "Ravalli woman gets attached to hawk - literally." This bird was retrieved off the roadside by 87-year-old Colleen Powell who said, "He was standing there like he was thumbing a ride." When she reached to retrieve him (later confirmed to be a her) the hawk nailed her in the hand, and the two weren't separated until a doctor in the hospital emergency room broke out the needlenose pliers. Rehabber Judy Hoy took over after that and offered the bird to us, knowing that our beloved program professional hawk Alisa had just died. So this hawk joined us on July 6th, a scruffy new addition that has molted into a beauty.

She was missing her left wingtip, bone and all, and had healed over so had been foraging on the ground for some time apparently. She has a fairly calm demeanor and at first I thought she may have been an illegal pet, but doubting that now that training has begun. The strangest part is the plumage, very pale brown feathers called "dilute plumage" and after she arrived, a massive molt began in ernest. The new feathers are normal with adult tail feathers. I still think she's just a year and a half old, a welcome new addition as you "have to have a Red-tail," our most common hawk and a bird everyone can identify.

She had her first program on Montana Public Radio Pea Green Boat, then first school in October and is a natural! (Nina) Simone joined us at the same time as Simon the Great Horned owl. Quite the stories, these two.