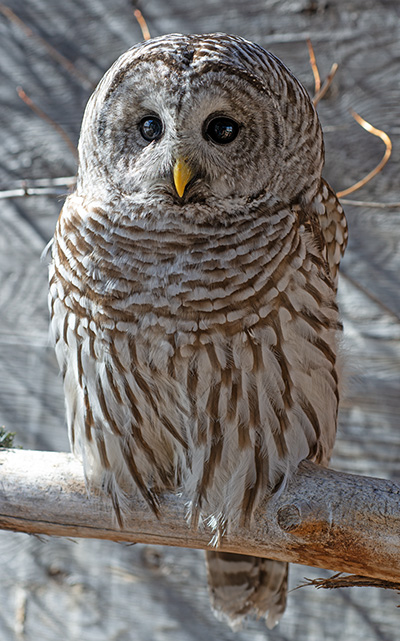 Strix varia
Barred Owl - NEW!s are part of the Strigidae family in the order Strigiformes.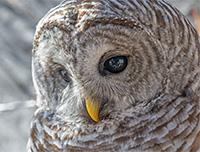 Brand new, sort of, and our Barred Owl is a sweet gem. She was apparently struck by a car nearby in the Bitterroot valley in December and suffered a severe head trauma. Unwilling to fly and a hatch-year bird with little chance of survival, she joined the Teaching Team, just approved for our Education Permit by the USFish & Wildlife Service in Denver, our regional headquarters.

Her first program was on April 27th at Chief Charlo Elementary School in Missoula, and what a star, on her best behavior for the students, resting well in the travel box. However, she had taken a big bath just before I fetched her and was soaking wet! This bird LOVES to bathe, every day seems like and a good sign that she's content.

Her name comes from a suggestion by Board Member John Heffernan to honor the Bard of Avon, William Shakespeare. Portia from the Merchant of Venice came to me on as the answer to a question on Jeopardy.

Date Acquired: 12/17/2022