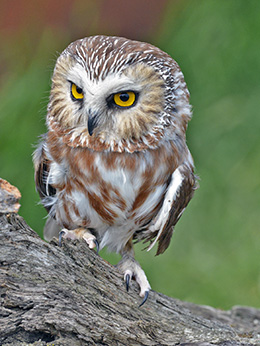 Aegolius acadicus
Northern Saw-whet Owls are part of the Strigidae family in the order Strigiformes.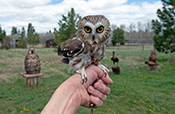 We are thankful to have our handsome Saw-whet. He came from a rehab center in Whitefish that was closing, struck by a car two years earlier. He arrived with the name Owen from the folks that recovered him on the roadway, and a huge coincidence as that is the name we would have chosen - that of the young son of Dale and Jennifer Manning on our Board of Directors, Owen.

Everyone loves this bird, and the most common question so far: "Is that how big they are?" I am guessing they are asking if he'll get any larger, and no. And deer don't grow up and turn into elk either, another common question in the National Parks.

Sadly, Owen died in November, just as I was mailing out newsletters. He was a Hero/Superstar/ Favorite during his 11 years with us, living at another center that closed before that so true age is unknown. In his time as a Raptor of the Rockies, Owen thrilled and inspired thousands in 677 formal programs and tours. He often made his little vocalizations for school assemblies and Montana Public Radio, no fear of a Peregrine on a perch near-by, brave! He is so missed and the perfect friend forever.