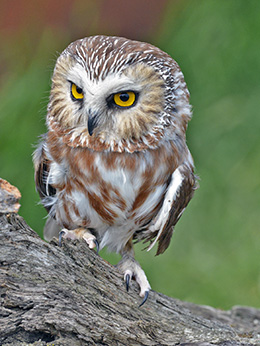 Aegolius acadicus
Northern Saw-whet Owls are part of the Strigidae family in the order Strigiformes.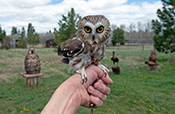 We are thankful to have our handsome Saw-whet. He came from a rehab center in Whitefish that was closing, struck by a car two years earlier. He arrived with the name Owen from the folks that recovered him on the roadway, and a huge coincidence as that is the name we would have chosen - that of the young son of Dale and Jennifer Manning on our Board of Directors, Owen.

Everyone loves this bird, and the most common question so far: "Is that how big they are?" I am guessing they are asking if he'll get any larger, and no. And deer don't grow up and turn into elk either, another common question in the National Parks. We hope that Owen will be with us for a while, sharing the appearances with his next-door neighbor iPod, the Pygmy-owl.