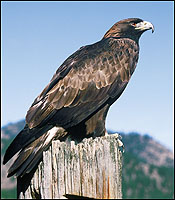 Aquila chrysaetos
Golden Eagles are part of the Accipitridae family in the order Falconiformes. Click here to learn more...





Nigel the Golden Eagle joined the Raptors of the Rockies team in January of 1999. He was retrieved in a field west of Ronan, Montana after suffering from a gunshot to the right wing, which amputated the manus or "hand" and all of the primary feathers. When he joined us, Nigel still had white at the base of his wing and tail feathers, signaling juvenile, and he molted into adult plumage that first spring. We guess that he was three at the time of his injury. He recovered his lost weight with a diet of ground squirrels and deer meat. It is remarkable that a fierce wild raptor would adapt to captivity after such a traumatic experience, or put up with people at all. But after his debut programs on Montana Public Radio and television on KECI's Monte Turner Show, his future as an educator was certain.

Nigel's companion for 19 years, Max the Golden Eagle was severely injured by a wild coyote (we guess) and had to be euthanized in 2018, tragic. His roommate is Sonny the Bald Eagle, not exactly pals, and the boys enjoy a 30 x 40 foot enclosure near the Bitterroot River. They take cover in a large shelter in really rough weather, but usually survey the scene from a tall horizontal perch. Curiously, they alert us by calling when wild Golden Eagles fly overhead, and ignore the many Bald Eagles that cruise the river. Nigel is fairly mellow and he dines on ground squirrels, chickens, game meat and lab rats. With his calm demeanor and regal presence, he has been an excellent ambassador raptor, and impressive bird to see up close.

Nigel is named for a favorite driver in Formula One race cars, Nigel Mansell, and for a favorite song by the band XTC, "We're Only Making Plans For Nigel."