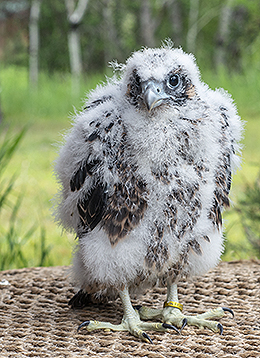 Falco peregrinus
Peregrine Falcons are part of the Falconidae family in the order Falconiformes.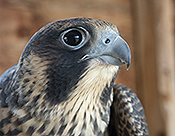 Star program bird already, Mischa has fully grown all of her feathers and is currently in flight training. In late May, our friend Skip from Springhill Falcons in Bozeman sent a brief email that he had a baby Peregrine if we were interested. One we acquired from him two years ago didn't work out, now at Cascades Raptor Center in Eugene Oregon. He thought this one a.) was a female, 2.) would make a fine imprint, and c.) her mother is Sibley's half-sister. So that (and a coin toss, I am not kidding) cinched it and I was off the next morning to pick up the 21-day-old downy falcon, met him in Butte. I started counting in my head on the way back, and this will be the eighth falcon raised in the house, playpen inside and one in the yard, vacuuming up down feathers twice a day. Quail run through the meat grinder in the garage, "gerry" pads all over the place to be hosed out every morning, falcon toys littering the floor. Cardboard barricades to keep her in the office running around and not the rest of the house, jazz music on all the time. I LOVE doing this!

So now she "all growed up" and ready to go. And don't tell Sibley, but not a single bad habit. Sib would wake us up right when it started getting light as a baby. 19 years ago.

Tom always suggests birds names, Mischa sounded quaint, and it means "a girl most people can only dream about" in the urban dictionary. She has starred in numerous "selfies" from school groups and even for the band Queensryche in their second-annual visit. I am getting hip, maybe hipper, and was even in a selfie. We'll keep you posted and a very happy bird.