Aquila chrysaetos
Golden Eagles are part of the Accipitridae family in the order Falconiformes. Click here to learn more...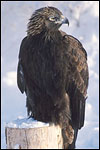 Max the Golden Eagle has been in human care since a fledgling in 1989, and he joined us at the first Raptor Ranch in Clinton in 1992. He was found in the Bob Marshall Wilderness along side a trail unable to fly, and was packed out on horseback. His inability to fly has been attributed starvation as a youngster and associated nervous damage. He was originally cared for at Wildlife Wildlands Institute by John Craighead, who inspired me to move to Montana from Cincinnati. I attended one of his grizzly bear lectures and was off to Missoula for college the next year in 1978. Max lives in a 40 foot enclosure with Nigel, the 24 year-old Golden Eagle, and they are best pals. He has also gotten to be friends with Sonny the new Bald Eagle. Well, they put up with each other, and feed on different ends of the enclosure.

Max eats game meat of elk, deer, and bear, plus trapped Eastern Fox Squirrels, which are problem non-natives to the area. He and Nigel also enjoy laboratory rats and mice, thankfully donated to the program. Max is the boss when it comes to feeding time, and Nigel gets the food placed on the second perch. At 29 years old now, Max may be with us for some time to come, a staple for school assemblies. This seems like a major commitment, but he is a pleasure to know, a bird that is a very charismatic member of the teaching team.

TRAGEDY and Max suffered a terrible accident and had to be euthanized in April. He had been on the ground incubating a rock as he did all last spring and I discovered him in the morning with his wing ripped off: feathers, skin, just bare bones. A huge coyote showed up briefly a few weeks later, and we imagine it pulled his wing right through the fence wire, parts scattered for 30 feet. The Raptor Ranch is just not the same, R.I.P. our premier pal.