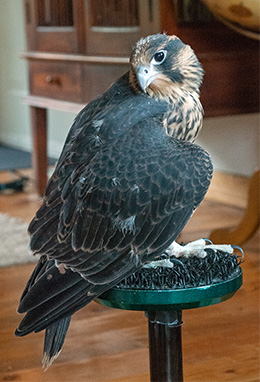 Falco peregrinus
Peregrine Falcons are part of the Falconidae family in the order Falconiformes.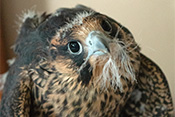 Maizee is our new pal, arriving here at 19 days of age from NorthGenFalcons breeding project in Port Angeles, Washington. Breeder Aaron Smith had a second clutch of eggs from an "anatum (Continental) Peregrine that looks just like Sibley, the reddish or salmon cast over her ventral feathers. The eggs were hatched in an incubator with some help from Aaron, Maizee was placed with the mom for a few weeks, then shipped to us by the airlines. Anxious hours at the airport, but that's another story...

I have documented her growth and progress in photos, check out page 2 of the new Raptor Round-Up on the Newsletter page. Maizee is "an angel straight from heaven" to quote a favorite movie (Raising Arizona.)

Sib is 18 years old now, and has been slowing down a bit in her flying. She did catch a duck last season, wow, plus has starred in 650 education programs. Maizee's turn, and her first program at Nine Mile Community Center, standing room only, and already a pro. Plus, of course, Montana Public Radio Pea Green Boat with host Annie Garde! Flight training now as she is now "all grown up."