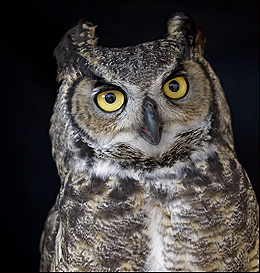 Bubo virginianus
Great Horned Owls are part of the Strigidae family in the order Strigiformes. Click here to learn more...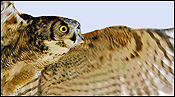 Miles the Great Horned Owl got a roommate in October of 2003, a female named Jillian that shares in the educational program appearances. Upon meeting, these two began a vocal duet of greeting hoots, clearly male and female by tone. The two owls spend their days roosting side by side, Jillian being larger in size. Judging by her plumage we determined that she was less than a year old at the time. Jillian had been hit by a car and suffered a wing dislocation as well as numerous abrasions to the body and left eye. Dr. Bovard at Missoula Veterinary treated her and thought she might make a good program bird. And sure enough, she has proven to be a natural, even posing for art classes.

Jillian is named after our US Ski Team Mogul Champion and pal, Jillian Vogtli, who we met at a national competition at Missoula's SnowBowl Ski Area. She is also named for the daughter of our vet, Dr. Bovard, another wonderful Raptor Backer family.

Jillian has had several road trips, and seems comfortable in the giant kennel. I did learn to leave her in the car and not the motel room over night because after all, she is nocturnal, and I am not. Plus she is the Superstar Owl, joining me in 2015 for a TEDx Talk, "Communication In the Dark" on YouTube - tedxumontana.