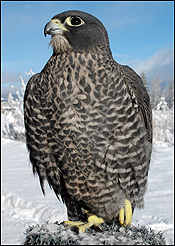 Falco rusticolus x peregrinus
Gyrfalcon/Peregrine Hybrids are part of the Falconidae family in the order Falconiformes. Click here to learn more...





Ansel joined the team in 2004 and was a program professional from the start.

This falcon is a hybrid from a male black Gyrfalcon and female Peale's Peregrine, and unfortunately has a vision problem in his right eye so can't judge distance. These birds are prized by falconers because they often display the best qualities of each species, Gyr and Peregrine. Our friend Kenny Sterner in Sheridan, Wyoming offered us the three week old bird, and off we were on a road trip. On the way back my Mom came up with the name Ansel, because he was black and white. Ansel Adams the photographer was a hero to my Dad, who had a darkroom in the basement the whole time I was growing up. The debut was on public radio, and he is the star of a video made during the International Wildlife Film Festival Young Filmmakers Workshop. Ansel is very playful and has a tennis ball and knotted ropes that he carries around clenched in one falcon foot. He rides to programs in a kennel, and steps out when the door is opened and hops up on a perch to astonish the audience. We are very lucky to have this handsome and mellow teaching team bird.

With great sorrow we report that Ansel died unexpectedly in mid-December. At first he wouldn't eat, brought indoors in a kennel and on a heating pad. He rallied for a day and passed suddenly despite heroic efforts by Dr. Scott Bovard at Missoula Veterinary. Very much missed, and he always made me smile.