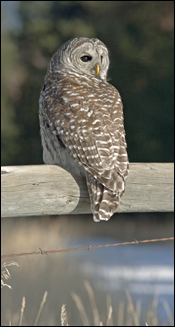 Barred Owl photo, in our Raptors of the West book.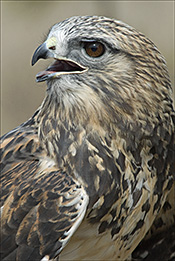 Otto the Rough-legged Hawk would like to be adopted today, and get this matted photo for your wall.



The "Raptors of the Rockies" program continues to educate schools and the public across Western Montana. The expense of conducting these programs and maintaining our resident raptors is considerable and we could use your help to ensure a bright future.

A unique way to help this program continue is to "Adopt a Raptor" for one year. Adopt one of our birds at the rates suggested below and receive "adoption" papers, a matted color photo portrait of your raptor ready for the wall, and a life history since the bird has been in our care. All contributions are tax deductible, 501(c)(3) non-profit and your support is very much appreciated.
Suggested Adoption Rates
Click on the bird's name to meet our adoptees

Max, male Golden Eagle

$1000

Nigel, male Golden Eagle

$500

Sibley, female Peregrine Falcon

$400

Graham, female Barred Owl

$300

Sonny, male Bald Eagle

$300

Miles, male Great Horned Owl

$250

Evita, female Swainson's Hawk

$200

Otto, male Rough-legged Hawk

$200

Sonora, female Aplomado Falcon

$200

Ansel, male Gyrfalcon/Peregrine Hybrid

$150

Chesty, female Harris's Hawk

$150

Jillian, female Great Horned Owl

$150

Alisa, female Red-tailed Hawk

$100

Margo, female Sharp-shinned Hawk

$100

JayDub, male American Kestrel

$75

iPod, male Northern Pygmy-owl

$50

Owen, male Northern Saw-whet Owl

$50

To adopt a raptor and receive your "adoption" papers, the bird's matted color photo portrait and life history, plus a receipt for your tax records, please send a check or money order and the bird's name to the address below.
Raptors of the Rockies, P.O. Box 250, Florence, MT 59833
or contact us at raptors@montana.com