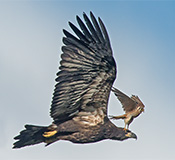 My favorite photo - a newly fledged Bald Eagle has a feisty American Kestrel take a ride for a second, taken at the river behind the house.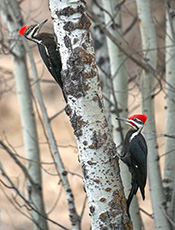 Pileated Woodpecker pair in the front yard. New photos nearly every day on our Blog page!



Things are always hopping at the Raptors of the Rockies organization. We're taking care of the birds and maintaining their enclosures, we're conducting raptor programs at local schools and organizations across Western Montana, art is flying out of the studio, we're taking photos and shooting video, we're out in the field birding and/or doing research, and much, much more.

To help you keep up with the flurry of activities happening at Raptors of the Rockies, we're blogging on a more-or-less daily basis and our most recent posts are listed below. Enjoy!
---
Oneth of AprilPosted: Thu, 02 Apr 2020
---
Cards GalorePosted: Mon, 30 Mar 2020We had a few big orders for notecards BC (Before Corona) and spent a couple days folding and taking inventory. Ready to go, now, whenever anything opens again - Rockin' Rudy's, etc.
ps: Dropped off 78 cards at The Good Food Store yesterday, an eye-opener driving around Missoula yesterday.

---
First Swallow of the YearPosted: Mon, 30 Mar 2020

Yesterday at the Refuge. Two, actually.
---
It's OfficialPosted: Sun, 29 Mar 2020"Our" Bald Eagle nest that we watch through a scope in the living room is housing Canada Geese, again. The eagles successfully fledged between one and three young for six consecutive years, me and the dogs on the beach photographing away. Then an empty nest in 2018 with geese the last two years. Eagles should be incubating by mid March, instead a twisting up goose head right now. Oh well, and a photo from last year:

---
Near-by NestPosted: Sat, 28 Mar 2020In this photo from 2017 I actually/happily got a photo of one of the three chicks fledging. Bye-bye and good luck!

---
They're Back!Posted: Fri, 27 Mar 2020Our friend Kathy Price reported that two Ospreys were standing on this nearby nest as of 5:30 pm, March 25th, about a week earlier than our imaginary arrival date of April 1st. I got a few crummy snapshots yesterday, and look - the male has a leg band. We've never had a banded bird at that platform, and I'll try to read the numbers through a scope.

---
Resident FlockPosted: Wed, 25 Mar 2020These turkeys live on our little road, and yesterday the hens were treated to some fine displays by four Toms. I had to shoe them out of the middle of the street right next to East Side Highway, a bit distracted I think.

---
COVID-19 Rule Number 3Posted: Tue, 24 Mar 2020
---
Raptor Round Up #58!Posted: Sat, 21 Mar 2020I finally cranked out a new newsletter and it just takes sitting down for a two or three days with a positive attitude, some nice stories and about 50 photos - looks great in color! Here it is, on the website.

---
First Day of SpringPosted: Thu, 19 Mar 2020

Nothing says Spring like a pair of Western Bluebirds perched on your Penguin sculpture in the front yard.