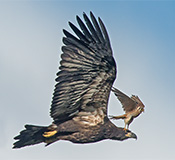 My favorite photo - a newly fledged Bald Eagle has a feisty American Kestrel take a ride for a second, taken at the river behind the house.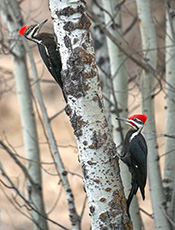 Pileated Woodpecker pair in the front yard. New photos nearly every day on our Blog page!



Things are always hopping at the Raptors of the Rockies organization. We're taking care of the birds and maintaining their enclosures, we're conducting raptor programs at local schools and organizations across Western Montana, art is flying out of the studio, we're taking photos and shooting video, we're out in the field birding and/or doing research, and much, much more.

To help you keep up with the flurry of activities happening at Raptors of the Rockies, we're blogging on a more-or-less daily basis and our most recent posts are listed below. Enjoy!
---
Tough Guy, Huh?Posted: Thu, 24 May 2018I mean tough gal and I am getting jumped upon by Ella the American Kestrel when I go in her enclosure to feed her and brother Wes. And not just the "take the mouse and split" but all-out ferocity. Spunky little gal, and a little nest in the corner. Kestrel are cavity nesters and that lacking, they make these little scrapes or hollowed out bowls in the sand and pine needles. When she is done laying (a few more eggs) I'll pull then when they are not looking. We are not breeding kestrels, sorry Jazz Birds (Ella Fitzgerald and Wes Montgomery.)

---
"You Should Have Been Here..."Posted: Mon, 21 May 2018Fill in the blank. "You should have been here five minutes ago," when a Pygmy-Owl was so close some friends got heroic photos with their cell phones. Or "You should have been here this morning," powder skiing up at SnowBowl but I was hunting ducks across the street with my falcon. Or "You should have been here last week," when the Arrowleaf Balsamroot was at it's peak right across the road. Still impressive and I'll get some more photos between rain showers.

---
Pigeons!Posted: Sat, 19 May 2018With the water way up, it has been impossible to head to the beach, so I "shot" the pigeons the other evening instead. On Thursday We had a great Pea Green Boat with Simon, Sonora, and author Sneed Collard, and Annie was joined in the control room by Joan Richarde. Plenty of fun with a discussion of woodpeckers, and it's archived on the Montana Public Radio website for a few weeks. On http://mtpr.org then Listen - Program Archives, May 17th. Terry's Jazz show then Annie and the gang!

---
Montana Public Radio ThursdayPosted: Thu, 17 May 2018WOW! We are on the air on Montana Public Radio tomorrow with fellow guest, Sneed Collard, my pal since 1999 when he took this photo of me and Sal the Gyrfalcon. He is the author of over 80 books, and we have appeared in several. He will discuss his excellent career and new book "Woodpeckers" from Mountain Press Publishing. It's the Pea Green Boat with host Annie Garde - left of the FM dial (89.1 In Missoula) at 4 pm MST and live on the internet at mtpr.org.

---
A Happy Mothers' DayPosted: Mon, 14 May 2018Mom and I checked out our favorite Peregrine watching spot up the Blackfoot yesterday and were not disappointed with two falcons flying around. Briefly they were both in the air at the same time which doesn't quite match the incubate-eggs-profile for this time of year. Time will tell and last year I recall they acted as if they were feeding chicks on the ledge, then disappeared. Hmmm. Darn it, we'll have to go back again soon!

---
WAY DownPosted: Sun, 13 May 2018Safe for now, car is back home, and here is Mookie minutes ago. The "island" was completely underwater, and the high water mark yesterday was that orange stake next to the open gate on the right, now high and dry. And a finch and woodpecker in the front yard.

---
Front Yard NowPosted: Fri, 11 May 2018I just blasted through the water now in the driveway in the Subaru to park at our (good) neighbor's house for a while, hopping the fence to get home. This will surely get worse and we are reminded of the spring of 2003 when we parked on the road and took a boat in and out for 5 days. I also recall taking turns manually pumping out the crawlspace every few hours. Seems like I had the 3 am shift. That was the worst water episode, but ten years after that we had to install sandbags by the gate, (photo today and water up) keeping it out of the yard at least. That's what happens when you live on the river and our sympathies to those on the Clark Fork which is approaching record flood stage.

---
WEN, GUTS, & H2OPosted: Thu, 10 May 2018A July photo of our bridge with the WEN (Watershed Education Network) and GUTS gals (Girls Using Their Strengths.) Then a photo of where the bridge is usually installed. Look - the "island" on the way to the river is practically underwater.

---
Pals and a WoodpeckerPosted: Thu, 10 May 2018Thanks Cathy Scholtens and Becky Howard for the fun afternoon yesterday, celebrating the so-far non-flood at the Raptor Ranch. Pals from Canada and D.C. and the Bitterroot are standing on the high and dry bridge that will live in the yard for a while. And a nice Downy Woodpecker in the front yard, no eagle trips to the beach for a while with these waters, but plenty of stuff to "shoot" by the house. And THANKS Gin DeNeve for installing plenty 'o plants in the garden. Pals all!

---
Eagle FeathersPosted: Wed, 09 May 2018Cleaning all the swallow boxes on Sunday, here are some Golden Eagle feathers inside, the box by the bridge and probably from Max. Later that day Nigel the eagle leapt from his high perch during the huge rainstorm and wind in the dark, then took a gigantic bath all during the maelstrom. What a guy.