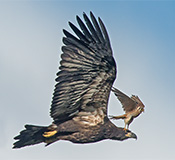 My favorite photo - a newly fledged Bald Eagle has a feisty American Kestrel take a ride for a second, taken at the river behind the house.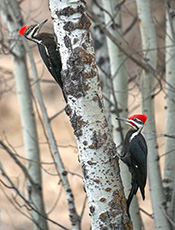 Pileated Woodpecker pair in the front yard. New photos nearly every day on our Blog page!



Things are always hopping at the Raptors of the Rockies organization. We're taking care of the birds and maintaining their enclosures, we're conducting raptor programs at local schools and organizations across Western Montana, art is flying out of the studio, we're taking photos and shooting video, we're out in the field birding and/or doing research, and much, much more.

To help you keep up with the flurry of activities happening at Raptors of the Rockies, we're blogging on a more-or-less daily basis and our most recent posts are listed below. Enjoy!
---
Manning HouseholdPosted: Mon, 22 Jul 2019We had a great "spoil the falcon" afternoon at Mannings yesterday - Jennifer (who fetched Jake with me last Saturday), Owen and Dale. Dale is the Best Bird Taxidermist in the World, just won that award for the umpteenth time at the world competition, so he was digging it. The Mannings also make up half of ROTR Board of Directors, so sort of an outdoor meeting.

---
SaturdayPosted: Sun, 21 Jul 2019
---
Jake 'n JakePosted: Sat, 20 Jul 2019

Our friend Jake Snowden turned eight years old yesterday, and we were there to unveil our new Peregrine, Jake, who turned 25 days old.
---
Peregrine WatchPosted: Fri, 19 Jul 2019Up the Blackfoot with Jay Sumner looking for fledgling Peregrines and got one at Land Lindbergh's. On the left is Betsy McDonald and Land's daughter Erin in between rain showers. Jay thinks there may be as many as 800 breeding Peregrine pairs in the state, not bad and up from zero in 1980. Jay would spend a whole season in the field and and not see a single Peregrine, imagine that. Land and I always have lots of laughs and today's humor was the beverage - knowing my penchant for domestic beer in a can, he and Betsy asked at the store in Clearwater Junction, "What is the worst cheap beer out there?" and they decided on a six pack of Natural Light. HA!

---
Swift NestPosted: Thu, 18 Jul 2019

Our new Peregrine hasn't made a peep...until this morning when he heard new hatchlings from a chimney in the office peeping for the first time. A nest of Vaux's Swifts started their begging calls, and now a duet. Feed me/us.



---
New PeregrinePosted: Wed, 17 Jul 2019

Our new little boy - Peregrine, 22 days old now from Springhill Falcons, Sibley's sort of cousin. Thanks Jen Manning for the ride to Bozeman and what fun, news on the way.
---
CloudsPosted: Mon, 15 Jul 2019Last night, looking across the Bitterroot River.

AND got a new Peregrine baby, thanks Jennifer Manning for driving us to Bozeman! News on the way.


---
GUTSPosted: Wed, 10 Jul 2019The GUTS (Girls Using Their Strengths) annual visit, friends from the Missoula YMCA, and a Spotted Sandpiper on the beach. Lots of visitors lately and need to take a break. I know - I'll go to Bozeman with Jennifer Manning and pick up a baby Peregrine.

---
Raptor Round-Up #57Posted: Mon, 08 Jul 2019Eight pages in Living Color on the web site, thanks Webmaster Steve Palmer. I sure with that InDesign would quit with the "updates" that totally change how you re-size and move images. This took hours longer to write than it should've.
http://www.raptorsoftherockies.org/main.asp?id=newsletter

---
Thanks, Pat!Posted: Sun, 07 Jul 2019Nearly every year the slough/creek behind the house fills, the bridge to the river floats, and we have to pull it out and leave it on the bank for several months. Re-installing is always a trick, usually a bunch of friends helping out with brute strength. However, Pat Johnson has used a very clever pulley system to do it singlehandedly! This year was particularly tough as the bank on the near side had washed out, so Pat built another sturdy platform just downstream. Plus he reinforced the far side and hooked the pickup to the cables, tugged away and perfecto. Back to the beach and Pat is a genius.