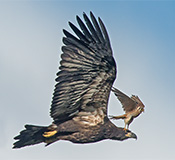 My favorite photo - a newly fledged Bald Eagle has a feisty American Kestrel take a ride for a second, taken at the river behind the house.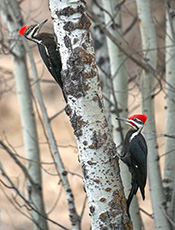 Pileated Woodpecker pair in the front yard. New photos nearly every day on our Blog page!



Things are always hopping at the Raptors of the Rockies organization. We're taking care of the birds and maintaining their enclosures, we're conducting raptor programs at local schools and organizations across Western Montana, art is flying out of the studio, we're taking photos and shooting video, we're out in the field birding and/or doing research, and much, much more.

To help you keep up with the flurry of activities happening at Raptors of the Rockies, we're blogging on a more-or-less daily basis and our most recent posts are listed below. Enjoy!
---
Montanan Magazine - 2017 and 2012Posted: Tue, 19 Sep 2017

100,000 copies - to every University of Montana graduate! My Osprey shot, "An Osprey successfully snags a mountain whitefish, August on the Bitterroot River and colorful light courtesy of smoke from the Lolo Peak Fire across the valley." Kate Davis '82. I had the cover shot and story in 2012, called "Bird's-Eye View."
---
Hurray!Posted: Sat, 16 Sep 2017The weather cooperated - top is last Saturday and lower is just now. Bye-bye Mr. Lolo Peak Fire!

---
Cooper's Hawks EverywherePosted: Fri, 15 Sep 2017
---
Osprey!Posted: Wed, 13 Sep 2017
---
Sunday's FirePosted: Mon, 11 Sep 2017

Right across the valley and we were told these were "back burns." They went all the way to the top of the Bitterroots, so doubtful.
---
Perfect ProgramPosted: Sun, 10 Sep 2017What fun yesterday, Lolo Pass Visitors Center and actually saw the sun. iPod and Sibley were on their best behaviors, but the True Star was Simon! He's a perfect program bird, stepped out of the kennel, had a long staring contest with Sibley (perched on the right) then dazzled our audience for 20 minutes. He was showing off in his first ever public appearance and turns out I shouldn't have been worried about the new transportation, different glove, and new people. Thanks Colleen Mathisen for the invite and we'll be back.


---
Join Us at Lolo PassPosted: Fri, 08 Sep 2017We have a program tomorrow at Lolo Pass Visitors Center, at the warming hut and perhaps not so smokey up there... We'll see. Come meet the new owl Simon in his debut public program, plus a few other friendly birds. Free and open to everyone, 2:00-3:30 pm MST.
Simon's favorite pastime is paper shredding, easy to clean up on the Big Perch.

---
Wednesday Night, Mookie and PeanutPosted: Fri, 08 Sep 2017
---
Our YardPosted: Mon, 04 Sep 2017Mookie takes it all in, and burning chunks from the sky, landing on my car.


---
Fire Camp SundayPosted: Sun, 03 Sep 2017This Lolo Peak fire has burned over 42,000 acres now and heading south. Fire camp is at the end of our little dead-end lane, 1200 firefighters at one point and half that now. Another red flag day with extreme fire weather today, man...