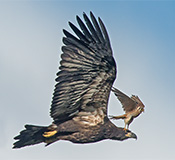 My favorite photo - a newly fledged Bald Eagle has a feisty American Kestrel take a ride for a second, taken at the river behind the house.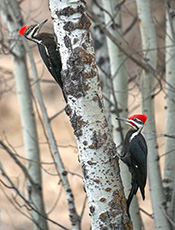 Pileated Woodpecker pair in the front yard. New photos nearly every day on our Blog page!



Things are always hopping at the Raptors of the Rockies organization. We're taking care of the birds and maintaining their enclosures, we're conducting raptor programs at local schools and organizations across Western Montana, art is flying out of the studio, we're taking photos and shooting video, we're out in the field birding and/or doing research, and much, much more.

To help you keep up with the flurry of activities happening at Raptors of the Rockies, we're blogging on a more-or-less daily basis and our most recent posts are listed below. Enjoy!
---
Ospreys EverywherePosted: Tue, 11 Aug 2020

There were six Ospreys flying together last week, but I was in the middle of a tour and didn't have my camera. Here was this weekend, four flying over the yard.
---
Sandhill Mom and Daughter TodayPosted: Fri, 07 Aug 2020Lee Metcalf Nat'l Wildlife Refuge.

---
MookiePosted: Mon, 03 Aug 2020

---
Edits and More EditsPosted: Sun, 02 Aug 2020I have been working on my latest book project, Falcons of North America 2nd edition since the day of the shutdown, March 12th to be exact and the end is in sight. I've been updating (and correcting in a few spots) our 2008 title, major new science and developments. You have to figure I wrote that 13-14 years ago! I just received excellent edits from experts Grainger and Terry hunt, the Peregrine Falcon Species Account, awaiting a few more chapter edits from the Experts in their Fields. And I've been starting on the 120 new/replacement photos, larger trim size, just wait!

---
ZOOM Wisconsin!Posted: Fri, 31 Jul 2020Here is a little screen shot of our program for 100 4th-graders in Wisconsin in June with our teacher pal Dave Oberbillig, and thanks to the school's teacher Julia Massino. Dave's son Ian filmed the 60 minute tour on his smart phone (I don't have one of those) and what fun, Dave and I in the upper left corner, kids all over the place. We had them all hoot like an owl at the end, and perhaps they still are! Hooting that is.

---
Snow GeesePosted: Wed, 29 Jul 2020Snow Geese winging their way over the river by the house.
Snow sounds great about now - 100 degrees tomorrow.

---
Sonora is SpyingPosted: Sun, 26 Jul 2020Our little Aplomado Falcon Sonora spent about 20 minutes on the jade plant by the window, watching the bird feeder. A bunch of baby pheasants and both parents have been showing up this week, cool. That vertical blue line is one of three strips of yarn with lead split shot at the end, hanging from the awning. With the reflective glass, it's a good idea to hang something in front to help prevent bird strikes. It seems to work, mostly.

---
BannackPosted: Sat, 25 Jul 2020We were supposed to be in Bannack State Park and Ghost Town today for a return engagement, seems like every two years. Anyway, cancelled or should I say, postponed until next July. Here we were in 2006 with Rob Domenech, Raptor View Research Institute, and Nigel the Golden Eagle. FUN!

---
Flycatcher FriendPosted: Thu, 23 Jul 2020This nest is directly over my friend's road, on the way to and from taking the dogs for an walk/adventure every day. I have been watching these two young almost out-grow the tiny nest. Western Wood-Pewee by voice. You know those identical flycatchers - bust out your Sibley Guide to Birds!

---
Female PeregrinePosted: Wed, 22 Jul 2020