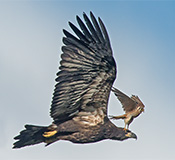 My favorite photo - a newly fledged Bald Eagle has a feisty American Kestrel take a ride for a second, taken at the river behind the house.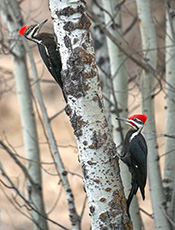 Pileated Woodpecker pair in the front yard. New photos nearly every day on our Blog page!



Things are always hopping at the Raptors of the Rockies organization. We're taking care of the birds and maintaining their enclosures, we're conducting raptor programs at local schools and organizations across Western Montana, art is flying out of the studio, we're taking photos and shooting video, we're out in the field birding and/or doing research, and much, much more.

To help you keep up with the flurry of activities happening at Raptors of the Rockies, we're blogging on a more-or-less daily basis and our most recent posts are listed below. Enjoy!
---
CottonwoodsPosted: Thu, 12 Dec 2019Metcalf Refuge and our yard.



---
Firewood StackPosted: Sun, 08 Dec 2019I got the last of the split firewood stacked yesterday, five half pick-up loads, and four layers deep here. Like I said, money in the bank! Plus new tires for the new-ish Subaru and we are set. Bring it on now so we can all head up to SnowBowl.

---
Downey on the MulleinPosted: Fri, 06 Dec 2019
---
Red-tail and PreyPosted: Thu, 05 Dec 2019Look at what this Red-tail stooped on, twice! She pulled up both times way over the cat, who didn't freak out at all and just meandered back to the house through the grass. HA!

---
Sib TodayPosted: Wed, 04 Dec 2019

---
Split and Stack, Day 1Posted: Mon, 02 Dec 2019Thanks Pat Johnson! Tom and sister Betsy! Money in the bank, sort of.

---
Red Squirrel and FirewoodPosted: Fri, 29 Nov 2019
---
Sussex School AssemblyPosted: Tue, 26 Nov 2019Yesterday we were delighted to present a big PowerPoint and three birds to the kids at Sussex. This was at the invitation of our buddy Kim Peterson, 1st-2nd grade and she shares her teaching duties with a man that saw a Raptors program when he was a kid - at Sussex School, probably in that very same room. Pretty cool and thanks Sibley, iPod and Jillian, pros.

---
Doug Fir Firewood GalorePosted: Mon, 25 Nov 2019Thanks to pal Pat Johnson, we are well on the way to stocking up and filling the firewood shed. Splitting and stacking next!

---
Lenticulars To the NorthPosted: Sun, 24 Nov 2019Flying Sib at One Horse Creek yesterday, we enjoyed these "lens" clouds - lenticular!