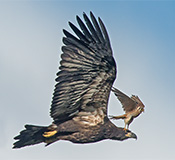 My favorite photo - a newly fledged Bald Eagle has a feisty American Kestrel take a ride for a second, taken at the river behind the house.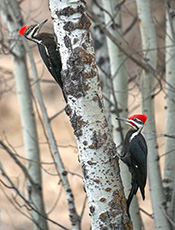 Pileated Woodpecker pair in the front yard. New photos nearly every day on our Blog page!



Things are always hopping at the Raptors of the Rockies organization. We're taking care of the birds and maintaining their enclosures, we're conducting raptor programs at local schools and organizations across Western Montana, art is flying out of the studio, we're taking photos and shooting video, we're out in the field birding and/or doing research, and much, much more.

To help you keep up with the flurry of activities happening at Raptors of the Rockies, we're blogging on a more-or-less daily basis and our most recent posts are listed below. Enjoy!
---
Bees Be GonePosted: Wed, 27 May 2020

A shapeshifting ball 'o bees all day, constant checks, then at 4:20, they were all gone. Advice on FaceBook

ranged from "get a beekeeper" (free-roaming bees, our choice) to "the queen will split when she gets advice from the workers." What an entomology experience. I remember a dear friend from out-of-state asked me why all these filing cabinets were out in the roadside fields in Montana? Bee hives! Bye bees, and good luck!




And some flickers today.



---
BEES!Posted: Tue, 26 May 2020

Tom heard the dogs barking yesterday afternoon and went outside to find thousands of honey bees swarming in the yard. They finally settled on this pine tree, four feet up and a mass measuring 20" x 12", bees flying into the mass at dark. This is the same tree that fledged five magpies last weekend. We'll see what happens with these thousands of bees, pollinate like crazy.



---
New Nests!Posted: Mon, 25 May 2020
---
Arrowleaf Balsamroot HavenPosted: Sat, 23 May 2020We have a gorgeous view for several weeks a year, Arrowleaf Balsamroot as far as you can see. I have a different bunch of photography settings for this landscape instead of birds in flight - slow shutter and high f-stop to get that depth of field. Our other Secret Spot was revealed when a "photographer" posted on FaceBook the exact location a few weeks ago. No more, and sure bummed us out. The ceaseless search for a Secret Spot...

---
Phone Service and Flood WatersPosted: Fri, 22 May 2020First, when I was doing the "phoney" with Annie on the radio yesterday, all of our phone service died. Smart phone, dumb phone and landline. What are the chances?
And the Bitterroot River came up a few feet and we installed the sump pumps in the crawl space, lots and lots of crawling. Then good ole Mike DeNeve came over with the skid steerer and we rescued the floating bridge that usually lives over the slough. Whew, much better. And wait and see how high the water will get. One year we had sandbags up where that green gate opens. HIGH water.

---
RadioDayPosted: Thu, 21 May 2020Annie Garde has invited me on the Montana Public Radio show Pea Green Boat today. We've been on the Boat about 100 times with live birds, but this time from the safety and comfort of this very chair at home in the office. A Phoney Visit (on there phone...Just made that up). At 4 pm today, KUFM in Missoula 89.1 FM dial, left of the dial across the rest of the region.
And a Canada Goose nest across the road.

---
Magpie SanctuaryPosted: Wed, 20 May 2020The first nest fledged six young on Sunday, then today the one by the office fledged five. The domed stick nests are in pine trees we planted when we moved in, about forty yards apart. I don't know how they all fit in there, a mystery, but must be great when the lock-down is over. And deafening, 11 begging babies!
And thanks for all the condolences regarding Simon and Adrian Caddy on Facebook. They are so missed.

---
Absolute TragedyPosted: Mon, 18 May 2020

I am finally posting news of the tragic loss of dear friend Adrian Caddy, killed in a motorcycle accident near his home in the UK two months ago. I met Adrian about 20 years ago, a delegate at the International Wildlife Film Festival where we shared a panel. He later brought his sons Simon and Alex every couple of years as they were growing up, staying here at the Raptor Ranch, and they loved swimming at the river with the dogs. Adrian was due back here this weekend to spread

the ashes of Simon on that beach. Simon was killed in a motorcycle accident three years ago, absolutely devastating. This has taken so long to sink in, that they are both gone in an instant. The times we shared are cherished, and big plans for the future are shattered. Rest In Peace, Mate. You are so missed, love you all so much, Caddys.
Alex, Adrian, Simon and me, circa 2004
Alex and Adrian at the river, 2017
Adrian with his carving gift and Simon our owl named for his son.

---
Sandpiper Art GalleryPosted: Sat, 16 May 2020Bev Beck Glueckert and I have a show in Polson for the next few months, now that the galleries are open. I met Margery Christensen (here) on a flight back from the Raptor Conference last fall, and before you knew it, we had agreed on a gig at her gallery! The joke is that I told her, "Only if there's no pandemic." So it was installed yesterday and printmaking galore, Bev's pieces on the right, mine on the left. Cool! 306 Main Street, Polson, MT

---
Crane CrossingPosted: Thu, 14 May 2020Sandhill Crane Official Crossing Spot, today. A friend worked at the front desk at Montana Fish, Wildlife & Parks in Missoula for over twenty years, and I asked her what was the funniest comment she had ever heard. Without missing a beat she informed us that a woman called and wanted their "Wildlife Crossing" sign moved from her street, because the darned deer were in her yard all the time. No kidding.