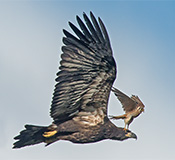 My favorite photo - a newly fledged Bald Eagle has a feisty American Kestrel take a ride for a second, taken at the river behind the house.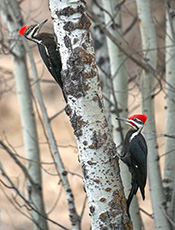 Pileated Woodpecker pair in the front yard. New photos nearly every day on our Blog page!



Things are always hopping at the Raptors of the Rockies organization. We're taking care of the birds and maintaining their enclosures, we're conducting raptor programs at local schools and organizations across Western Montana, art is flying out of the studio, we're taking photos and shooting video, we're out in the field birding and/or doing research, and much, much more.

To help you keep up with the flurry of activities happening at Raptors of the Rockies, we're blogging on a more-or-less daily basis and our most recent posts are listed below. Enjoy!
---
Red-tail!Posted: Sat, 23 Mar 2019
---
The Melt is OnPosted: Tue, 19 Mar 2019Up to 60 degrees this week! Is it just me or was this one LONG winter?

---
CartoonPosted: Sun, 17 Mar 2019

From Woman's World- cracks me up! Took me a minute and then laughed and laughed. A little tiny cartoon in the corner of a magazine I buy my Mom every week at the grocery store.



---
Florence 1st Graders!Posted: Thu, 14 Mar 2019

Redux at Florence Elementary today, remembering our hero 1st grade teacher and "Bug Man" Byron Weber of MTPRadio fame who tragically passed in 2010. A gentleman and scholar. Thanks Mrs. Verlanic and kids, all!






---
New Book! Sort Of...Posted: Wed, 13 Mar 2019I have begun work on the New/Revised Falcons of North America, originally published eleven years ago from pals at Mountain Press Publishing Company here in Missoula and out of print for years. In 2006 I began writing this title, Sibley standing on her perch in the office, jazz on the stereo, books and reference piled high. Now beginning work on the New/Revised version with brand new photos from Rob and Nick and me, larger trim size, and new science! The cover won't really say "New and Improved," just kidding, but a new photo.

---
Go For a Ride?Posted: Mon, 11 Mar 2019
---
Turkey DayPosted: Sun, 10 Mar 2019A little flock of Wild Turkey's were similarly busting through the snow yesterday, feeding on grass seeds on the sunny Saturday.

---
Breaking Trail!Posted: Sat, 09 Mar 2019Earlier this week and currently warming up, so should be some nice breakable crust to walk on off piste. We'll see.

---
More From MAMPosted: Thu, 07 Mar 2019Artist Hank Smith - sketching on a colored background, which happened to be paper shopping bags. He told me that way he has an unlimited supply and doesn't need to scrimp!

---
Sonora's SpotPosted: Wed, 06 Mar 2019Finally everyone is back outside, a warm spell of above zero.