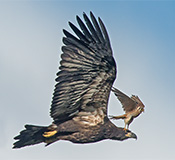 My favorite photo - a newly fledged Bald Eagle has a feisty American Kestrel take a ride for a second, taken at the river behind the house.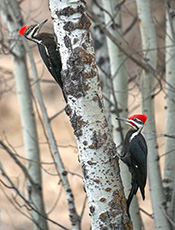 Pileated Woodpecker pair in the front yard. New photos nearly every day on our Blog page!



Things are always hopping at the Raptors of the Rockies organization. We're taking care of the birds and maintaining their enclosures, we're conducting raptor programs at local schools and organizations across Western Montana, art is flying out of the studio, we're taking photos and shooting video, we're out in the field birding and/or doing research, and much, much more.

To help you keep up with the flurry of activities happening at Raptors of the Rockies, we're blogging on a more-or-less daily basis and our most recent posts are listed below. Enjoy!
---
Buddies From UtahPosted: Mon, 24 Sep 2018Right when I returned from Hawk Mountain, I was serenaded by music from just across the road from the airport at Big Sky Brewing Amphitheater. Hey, that's the Avett Brothers! Actually never heard of them but my pals from Salt Lake were there, and paid us a way too brief visit on their way home, Joseph Dane and Bret with the eagles.
Then a Raven flew by, on his way to go molt.

---
Five and FivePosted: Sat, 22 Sep 2018Top: Five years ago hunting 'em up with some guests.
Lower: Five minutes ago looking out the window in the office.
Sonora the Aplomado/spoiled Falcon.


---
Cover GirlPosted: Fri, 21 Sep 2018

I got the cover for the latest issue of American Falconry Magazine, immature Peregrine on the Washington beach in the rain. Thanks researcher/tour guide Dan Varland of Coastal Raptors! Our second cover, the first of Sib catching a duck. Thanks to editor Steve Jones, ever watchful for great raptor images like those from Rob Palmer and Nick Dunlop.



---
Turkey Vulture + PelicansPosted: Thu, 20 Sep 2018

Hawk Mountain and Lee Metcalf
---
More Hawk MountainPosted: Wed, 19 Sep 2018I call it The Mecca (along with The World Center for Birds of Prey at The Peregrine Fund in Boise.) This visitor's center is stunning with carved birds and a cool migration map. This was where I presented my program, hawks overhead. They also have cars with unique photo paint jobs. So glad to have been invited!

---
BWHAPosted: Mon, 17 Sep 2018That's the scientific abbreviation for the Broad-winged Hawk, favorite species at Hawk Mountain Sanctuary yesterday. I had to head home at around noon so hightailed it to the South Lookout close to the visitors center at 10 am, just in time for the first flood of birds. It had been raining for weeks and this was the first sunny day, hawks awaiting the moment to migrate south. These are "kettles," or flocks of raptors circling together in the rising air as the ground heats up - a thermal. At one point we counted (guessed) over 400 at once in a flock, easier to see with a backdrop of clouds. Then they all "stream" or glide to the next thermal to gain altitude again, little energy expended. Clever, huh? All the way to Brazil! In that two hour time span, 2770 Broad-wings flew by, 3308 for the day. WOW!

---
Back From Hawk Mountain SanctuaryPosted: Mon, 17 Sep 2018Just returned from Pennsylvania, 6 1/2 hours in the air on United Airlines, and what a wonderful weekend! Here is my new pal Rachel Spagnola who invited me to speak at Hawk Mountain last year, and long-time buddy Laurie Goodrich, Director of migration studies. Saturday, not much in the skies but Sunday broke all records, I'll bet. Just as I had to leave. Plus Rachel and trainees. More on the way later today.

---
Edition BeginsPosted: Thu, 13 Sep 2018It took some different ink combinations, but finished the printing part of the new Osprey etching. You wipe the plate like normal, then apply a frisket to the bird, background grey rolled on with big brayers, wider than I've been using. Now the painting part...which gets kind of tedious after a while. I'll post a final version next week, this the "experiment."

AND off to Hawk Mountain, Pennsylvania at 5 am tomorrow, O-Dark-Thirty. I am very excited, and have revised/updated my PowerPoint and am bringing binoculars to watch the migration. I just hope I can get home with the hurricane airport traffic! Lousy timing, but wishing the best for those in the Carolinas.

---
Young EntomologistPosted: Tue, 11 Sep 2018

Nico was studying this "Western thatching ant and a European ground beetle" identified by our pal Glenn Marangelo at

the Missoula Butterfly House and Insectarium. Cool, huh?

---
River BirdsPosted: Sun, 09 Sep 2018Our one remaining snag was loaded with birds - top to bottom: Eastern Kingbird, Lewis's Woodpecker, and a bunch of Cedar Waxwings and Evening Grosbeaks. Then a Great Blue Heron flew by.