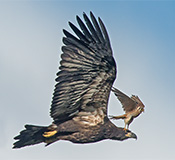 My favorite photo - a newly fledged Bald Eagle has a feisty American Kestrel take a ride for a second, taken at the river behind the house.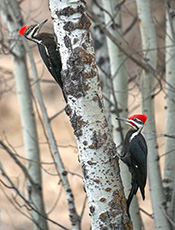 Pileated Woodpecker pair in the front yard. New photos nearly every day on our Blog page!



Things are always hopping at the Raptors of the Rockies organization. We're taking care of the birds and maintaining their enclosures, we're conducting raptor programs at local schools and organizations across Western Montana, art is flying out of the studio, we're taking photos and shooting video, we're out in the field birding and/or doing research, and much, much more.

To help you keep up with the flurry of activities happening at Raptors of the Rockies, we're blogging on a more-or-less daily basis and our most recent posts are listed below. Enjoy!
---
Seeley Lake!Posted: Wed, 18 Jul 2018

The program yesterday for the Clearwater Resource Council in Seeley Lake, hundreds of friends and we were told, "You hit a big homerun yesterday - wow.

One of the people who raved about your talk & birds was Jean Maclean Snyder, Norman Maclean's daughter who brought her family. I had several moms come up to me afterward to tell me how engaged both they and their kids were. Others said they never expected to be so entertained!

Cool, thanks Teaching Team Birds. You are the best.

Plus a deer mom and kid in Mom's yard.



---
Bonner PeregrinesPosted: Tue, 17 Jul 2018Today, and looks like the four Peregrine chicks are about to fledge. Eyrie at the Bonner Take-Out/Put In and the cliff nest is on the right side near the top - an old stick Raven nest. Dad is bringing in what turned out to be a a nice white bird for the babies. Not so baby any longer and soon to be swooping and begging. Check it out!

---
Nearby NestPosted: Sat, 14 Jul 2018The Ospreys are close to fledging time in our pal and neighbor Kathy Price's yard. She watches them like a hawk and reported that the male left for a full day, no food for 24 hours when the chicks were much younger. Two nestlings are easier to feed than three, she observed - three the last few years. More news on the way and thanks, Kathy!

---
Burrowing Owl & FeatherPosted: Fri, 13 Jul 2018
---
Burrowing Owl & BumblebeePosted: Wed, 11 Jul 2018
---
Sunday FundayPosted: Mon, 09 Jul 2018
---
River ActivitiesPosted: Sun, 08 Jul 2018

A robin crashed into the river before me and bathed as if in a bird bath until out of sight downstream. He l

ooked like a tiny duck. Then what, mating Spotted Sandpipers? They have chicks by now...



---
Nest TreePosted: Sat, 07 Jul 2018

Yep, nest tree still intact.
---
OH NO!Posted: Thu, 05 Jul 2018Tragedy for Kate Davis, River Photographer -the floodwaters took out our favorite tree. The "Scenic Snag" across the river is now laying in the Bitterroot. I was down there a minute and thought, something is wrong, then discovered what: the skyline had changed. I'll bet 75% of my photos are birds in that tree - eagles, Ospreys, Peregrines, Kestrels, Merlins, you name it. That' the ex-snag right under the eagle in this composition photo used in the Audubon Bird Festival. Plus featured quite a bit in the Birds Are People, Too book. Bummer, but at least the nest tree is still standing.

---
Bobolink!Posted: Mon, 02 Jul 2018They migrate to South America! Embrace the Bobolink as your favorite songbird.