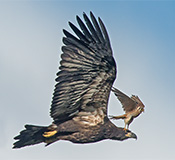 My favorite photo - a newly fledged Bald Eagle has a feisty American Kestrel take a ride for a second, taken at the river behind the house.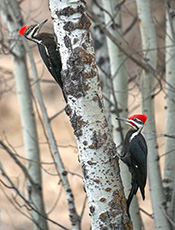 Pileated Woodpecker pair in the front yard. New photos nearly every day on our Blog page!



Things are always hopping at the Raptors of the Rockies organization. We're taking care of the birds and maintaining their enclosures, we're conducting raptor programs at local schools and organizations across Western Montana, art is flying out of the studio, we're taking photos and shooting video, we're out in the field birding and/or doing research, and much, much more.

To help you keep up with the flurry of activities happening at Raptors of the Rockies, we're blogging on a more-or-less daily basis and our most recent posts are listed below. Enjoy!
---
PerchesPosted: Wed, 08 Jul 2020Can you see one of the favorite perches in the yard? Actually, all the sculptures look like that!

---
Mom and Dad House WrensPosted: Mon, 06 Jul 2020

At least five fledglings flying around the yard begging, and two more nests with the same action in the yard. Love these tiny birds. Wren City over here! Than male is stand on a cow skull on the fence.
---
House WrensPosted: Sun, 05 Jul 2020

(I posted this on FaceBook

yesterday, 4th of July)




House Wren on the fish sculpture. And just had Raptors of the Rockies education program number 1776 in Lolo. Does that seem like coincidence? Oh, come on. YES



---
Peregrine TimePosted: Fri, 03 Jul 2020The young have fledged at the Peregrine nest at Bonner, so stop, look and listen when you put in or take out your raft. Young chase the parent around, feigning starvation and screaming like a banshee! This will be the scene for several weeks to come, on the big cliff.

---
Happy Birthday, Nico!Posted: Thu, 02 Jul 2020Two years old today, running like a young gazelle.
And a year ago:

---
Osprey FishPosted: Sat, 27 Jun 2020I have been leaving my camera in the garage when doing chores in the evening, just for this reason - a cool bird in the yard.

---
Our Multi-Purpose FeederPosted: Fri, 26 Jun 2020Huge whitetail buck this morning and currently a turkey and pheasant, front yard feeder. Wood ducks and California quail, native red squirrels, oh, and song birds too. Cool.

---
Food!Posted: Thu, 25 Jun 2020I always joke with the kids in programs, "Every night before I go to bed I brush my teeth, then go to freezer for bird food. There is the ice cream, pizza, hamburger, quail, mice, heart meat, squirrels..." working my way from top to bottom in an imaginary freezer. This is the real thing, packed to the max, and fit some more squirrels in the door. Tom suggested we get a separate "people food" freezer years ago...
And Mookie laying in the creek, every day walk.

---
Missoula WildlifePosted: Wed, 24 Jun 2020
---
Osprey TacticsPosted: Tue, 23 Jun 2020When the river water is this high and murky, many Ospreys travel up to the clear, Bitterroot mountain lakes for fish. Often a thieving Bald Eagle will try to rob their prize when they return. Once I saw an Osprey catch a fish only to have an eagle force him to drop it 100 yards upstream, and the fish swam away! Here comes an Osprey at dark last night, and an older photo with a whitefish.