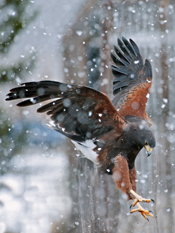 Chesty the Harris's Hawk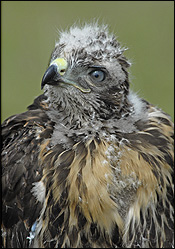 A young Red-tailed Hawk, released 2008.



Things are always hopping at the Raptors of the Rockies organization. We're taking care of the birds and maintaining their enclosures, we're conducting raptor programs at local schools and organizations across Western Montana, art is flying out of the studio, we're taking photos and shooting video, we're out in the field birding and/or doing research, and much, much more.

To help you keep up with the flurry of activities happening at Raptors of the Rockies, we're blogging on a more-or-less daily basis and our most recent posts are listed below. Enjoy!
---
Lewis's'sPosted: Fri, 24 May 2013These woodpeckers are everywhere in the Bitterroot, and a nice nest down the road with a pair still in courtship in a little stand of dead cottonwoods. At least a dozen European Starlings are well on the way in reproduction, food deliveries and every time one flies in, I have to look up and see if it's these guys. On a mission to photograph this nest and (fingers crossed) a pair of Pileated Woodpeckers also in the front yard...maybe another candidate as an Honorary Raptor.

---
Philpsburg Field TripPosted: Wed, 22 May 2013Our friend Liz Hill, teacher in Philpsburg arranged this one, school bus of 40 kindergarten through 4th graders, a perfect bunch, look at 'em! Our tour and picnic was cut short when the rain and hail rolled in and we beat a hasty retreat to the living room (that we call the downstair, as there is one step to the rest of the house, or the upstair.) They met Sibley and saw the two deer taxidermy shoulder mounts I did a million years ago, hanging side by side on the wall. I told them the story of the Chinese kids that came over years ago. When they saw those deer heads, they walked through the room, opened the back door, and looked for the rest of the deer. True. Here they surround the penguin in the driveway that you can just see by the kid with the purple sunglasses, future hip-hop star.

---
Last NightPosted: Tue, 21 May 2013
Bald Eagle pair and kestrel spies a Barn Swallow.
---
He's Back!Posted: Mon, 20 May 2013I should say "one is back." A Black-chinned hummingbird is now King of the Hill around here, and might be the same one as the last few years. They are rather uncommon, and we started seeing a single male here in 2010, but not until June. The Calliope hummers have made themselves scarce, today at least, and with three feeders up and lots of plants in bloom, I'm sure no one will starve. Black-chinned's are slightly larger, and you can just see that tint of bright violet iridescence on his "chin." Females of both species have light throats, and surprisingly, are slightly larger than their mates. Male Black-chinned hummingbirds weigh a whopping 3.1 grams, females 3.4 grams, just slightly heavier than a penny. I think they should be Honorary Raptors.

---
Flee from the Passerines!Posted: Mon, 20 May 2013Those are the perching birds, a starling and magpie at the old kestrel nest tonight. I think I'll officially give up on the them showing up this spring, and a real disappointment as I am writing a book on kestrels and that was my star nest. I am collaborating with Rob Palmer and know he'll find some great ones in Colorado, and I am still on the prowl.

---
Feeding the Kids at Five WeeksPosted: Sun, 19 May 2013This also from last night, and so far I have just seen two young. Last year they fledged three, and I never saw of them at once until June! Notice the second chick between the two, a little mohawk of downy feathers still. With the high water I had to scootch across a log over a raging temporary creek dumping water from the river into the slough. Quite uncomfortable and no way I could walk on that log- I'd go in the drink. I have my camera in a Lowepro pack on my back and the tripod for balance, and am going to saw those staubs off that log, ouch.

---
Just Got ThisPosted: Sun, 19 May 2013
---
Kestrel Tree?Posted: Fri, 17 May 2013I am just about to give up on finding kestrels at last year's tree and nothing so far. One male perched briefly and fled from a Red-tail. Then yesterday, this guy perched in the cottonwood, oh well...Some folks report that kestrel nesting phenology (timing) is late this year, but this is a bit too late for comfort, so I've been out looking for other nests. Last year I was still photographing courtship on this date.

---
Little OnesPosted: Wed, 15 May 2013Miles (Davis) the Great Horned Owl recently met the kids at the University Congregational Church pre-school and benevolent overlord Jean ("Miss Jean") Woessner. This is her last year and she's seen multitudes of little ones hoot like an owl when we visit. Look at these future zoologists and conservationists... and paleontologists as this class calls themselves The Dinosaurs. Good luck, Jean and enjoy retirement.

---
Two Calliope'sPosted: Wed, 15 May 2013This looks like this is a different bird than last night, judging from the colorful throat feathers. Yesterday I visited some friends up Miller Creek, and they had 15 Calliope Hummingbirds at their feeder at one time. My pals the Lowe's at Bannack State Park - dozens and dozens. Jealous? You bet, as he have had just a few at our feeders over these 12 years, and too bad that our Black-chinned has not made it back. I am standing on a ladder in the yard and realized that 6400-8000th of a second works best. In the old days of film, that would use up your whole 36 exposure roll in a heartbeat. Remember rotary phones, kids? How about 8-track tape players and black and white TV's? Digital blows my mind.