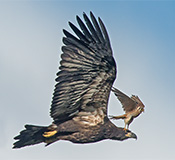 My favorite photo - a newly fledged Bald Eagle has a feisty American Kestrel take a ride for a second, taken at the river behind the house.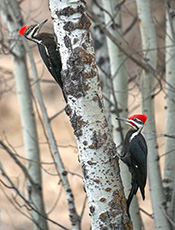 Pileated Woodpecker pair in the front yard. New photos nearly every day on our Blog page!



Things are always hopping at the Raptors of the Rockies organization. We're taking care of the birds and maintaining their enclosures, we're conducting raptor programs at local schools and organizations across Western Montana, art is flying out of the studio, we're taking photos and shooting video, we're out in the field birding and/or doing research, and much, much more.

To help you keep up with the flurry of activities happening at Raptors of the Rockies, we're blogging on a more-or-less daily basis and our most recent posts are listed below. Enjoy!
---
Conference and Sib TodayPosted: Wed, 13 Nov 2019Nick and Michelle Dunlop with Dan Varland at the RRF Conference. Plus - after languishing in her building for a week with no flights, poor Sib today....HA!

---
HOME From the ConferencePosted: Tue, 12 Nov 2019Raptor Research Foundation Conference in Fort Collins, Colorado. Home safe and sound after a 4 hour workshop Wednesday on Raptor Photography with Nick Dunlop and Rob Palmer. Now we work on our New! and Revised! Falcons of North America book. Great fun!

---
November TwoPosted: Sun, 03 Nov 2019

Flying Sib today and a little break as I head to the Raptor Research Foundation Conference in Fort Collins, Colorado next week. And what it takes to line out the food for that time I'm gone, Tom taking good care of the birds. Mice, quail, meat.




---
Sunday Duck Hunt with SibleyPosted: Mon, 28 Oct 2019
---
Snowy SaturdayPosted: Sat, 26 Oct 2019My favorite Aspen grove just now and bet they won't turn red this year.

---
CALENDARS!Posted: Fri, 25 Oct 2019The 2020 calendars are available, and thanks to Pyramid Printing for the fine work! 13-months on heavy buff paper, and nearly every photo taken right here around the Raptor Ranch. 100% of proceeds goes to our program and the old-fashioned way - checks in the mail, or I can drop some off for you. Always have some in my car!
$20 + $5 shipping checks to Raptors of the Rockies, P.O. Box 250, Florence, MT 59833

---
Favorite Aspen GrovePosted: Wed, 23 Oct 2019I have hundreds of photos of these trees taken over the years on my way back from flying Sibley the Peregrine every day. They usually turn bright red, but some years this is it - freezing weather and leaves blow off in the wind. We'll see.

---
Sunday's HuntPosted: Tue, 22 Oct 2019

Nice little hunt on Sunday. All you need is one duck - Mookie, Nico and Sib.
---
Larch TreesPosted: Fri, 18 Oct 2019By the Penguin sculpture, and Pheasant in the background. We planted these about 18 or so years ago, as little babies.

---
Near-by Owl Chillin'Posted: Thu, 17 Oct 2019