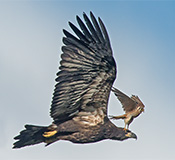 My favorite photo - a newly fledged Bald Eagle has a feisty American Kestrel take a ride for a second, taken at the river behind the house.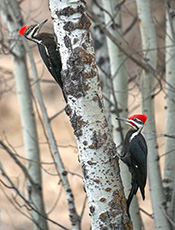 Pileated Woodpecker pair in the front yard. New photos nearly every day on our Blog page!



Things are always hopping at the Raptors of the Rockies organization. We're taking care of the birds and maintaining their enclosures, we're conducting raptor programs at local schools and organizations across Western Montana, art is flying out of the studio, we're taking photos and shooting video, we're out in the field birding and/or doing research, and much, much more.

To help you keep up with the flurry of activities happening at Raptors of the Rockies, we're blogging on a more-or-less daily basis and our most recent posts are listed below. Enjoy!
---
As PromisedPosted: Sun, 15 Sep 2019I said I would post this photo on the Blog when guesting on Montana Public Radio last week, and here it is. The last photo of an Osprey for the year, and two young raptors in a scuffle - October 28th!

---
Full Moon Last NightPosted: Sat, 14 Sep 2019

---
Jazz SessionsPosted: Fri, 13 Sep 2019Sure enjoyed my guest DJ spot on Montana Public Radio yesterday! I used to tape Jazz Sessions when I was in college living in the dorms, cassette days. Host Terry Conrad had Annie Garde and me take over for two hours and I spent days stacking up the CD's at home, blue sticky notes and the song number written in red. A big stack, and we really didn't spin any vinyl from the KUFM collection.

---
New Etching, First RunPosted: Fri, 13 Sep 2019
---
Return to the RadioPosted: Thu, 12 Sep 2019Annie Garde and I are hosting Jazz Sessions on Montana Public Radio today, 2-4 pm MST. 89.1 in Missoula, left of the dial across the west, and streaming at https://www.mtpr.org

Wes, Jaco, Freddie, and even Robben (Ford!) Then a visit on Pea Green Boat at after the jazz. No birds this time but Little Jake will be on soon.



---
KCSM Jazz!Posted: Wed, 11 Sep 2019My donation today (or one at the same time) just put our favorite jazz station over the $100 thousand mark for their Fall Fundraiser today! If you have never heard KCSM from San Mateo, the Bay Area of San Francisco, check it out. Spinning the best variety of tunes with real personalities live, playing their favorites 24/7. Awesome music for jazz fans so, check it out live and streaming, variety galore.

---
Little Jake the HelperPosted: Sun, 08 Sep 2019Yep. Helping me with the new Great Horned Owls etching up in the studio the last two days. He started screaming when in the house a few weeks ago for some weird reason, but doesn't make a peep in the studio, merci beaucoup. New etching finished by the middle of the week, whew.


---
Just About the Last HummerPosted: Wed, 04 Sep 2019
---
SundayPosted: Mon, 02 Sep 2019Pretty much the only action on the beach last night, Mookie and Nico. That and some Killdeer. Oh and a Bald Eagle, two fishermen and a big flock of ducks. That's it.

---
IncomingPosted: Sat, 31 Aug 2019