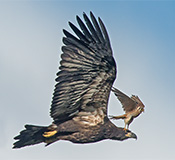 My favorite photo - a newly fledged Bald Eagle has a feisty American Kestrel take a ride for a second, taken at the river behind the house.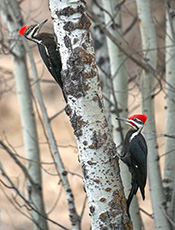 Pileated Woodpecker pair in the front yard. New photos nearly every day on our Blog page!



Things are always hopping at the Raptors of the Rockies organization. We're taking care of the birds and maintaining their enclosures, we're conducting raptor programs at local schools and organizations across Western Montana, art is flying out of the studio, we're taking photos and shooting video, we're out in the field birding and/or doing research, and much, much more.

To help you keep up with the flurry of activities happening at Raptors of the Rockies, we're blogging on a more-or-less daily basis and our most recent posts are listed below. Enjoy!
---
Captain FantasticPosted: Fri, 24 May 2019Our annual hosting of teacher Kevin Cashman's Chief Charlo students was even better this year with a language lesson. Friends in the back row Lillian Kennedy and her dad Antonio (plus daughter Katherine) are from Brazil, so when I asked the 4th graders what language is spoken in that country fully half of the kids shouted out, "Portuguese!" So we learned how to say many avian words and are now bilingual, for birds at least. Then a trip to nearby Metcalf Refuge for birdwatching and turtle spotting. Enlightenment for all of us!

---
Clear or Non-glare?Posted: Wed, 22 May 2019One quality the new "Turkey In the Snow" etching has is iridescence - it sparkles! Much of it is painted with luminescent watercolors and the question is how best to show that off. Opinions are divided regarding the glass for the framed print. I think the non-glare allows the sparkles to shine through, but fellow artists and family members say it knocks down the brightness. Guess you'll have to see it...to believe it!

---
MCAT VisitPosted: Mon, 20 May 2019We have been pals and partners with Missoula Community Access Television (MCAT) for years and years, starting with young filmmakers camps and a 20 minute show on birds that I filmed and produced, about 6 or 8 episodes broadcasted twice a week. We've done interviews with General Manager Joel Baird and Steve Glueckert for his "Look Before You Speak" artists program. Steve was back and so was Scott Ranf, a half hour show about my printmaking and sculptures, even running off a monoprint on the press. Sorry about the editing Scott- we chatted for over an hour! Good luck.

---
Lunch DatePosted: Sun, 19 May 2019The waitress accidentally brought a pitcher instead of a pint, then thought I was serious when I asked for two straws...HA!

---
High and DryPosted: Sun, 19 May 2019Our bridge is up on the bank now, thanks to neighbor Mike DeNeve and his skid steerer. Awesome, Mike - you will be handsomely rewarded. Most years the slough fulls up and the "island" disappears for a while with high Bitterroot River waters. The trick is convincing friends to help us re-install the bridge. Plus two sump pumps in the crawlspace are running day and night with rising groundwater.

---
Mount Saint Helens AnniversaryPosted: Sun, 19 May 2019Right when I woke up today I remembered the special day, when the Mount Saint Helens volcano exploded in 1980.

I heard it happen when I was up in the Bitterroot Mountains with friends, not a sonic boom like we used to hear all the time back then when a jet made that sound traveling faster than the speed of sound. Not allowed anymore. But this huge noise was accompanied by black skies when we got back to Missoula. Then the ash started falling. So bad that they pretty much shut down the university (and everything else) when I was studying, get this, volcanology in Geology 210!

---
MUDPosted: Sat, 18 May 2019

Missoula Urban Demonstration Project on April 20th - Earth Day!
---
What a Show!Posted: Fri, 17 May 2019

The most fun I have ever had in 26 years on the radio (usually with birds.) Host Annie Garde and we even played some Joe Zawinul "My People" love that, Catherine Russel, and Lee Morgan, Annie finishing up with an excellent jazz Doris Day, no kidding.


On MTPR Archives for two weeks:
https://www.radiofreeamerica.com/show/jazz-sessions-montana-public-radio


---
Jazz Sessions Today!Posted: Thu, 16 May 2019

Guesting on Jazz Sessions today on Montana Public Radio with Annie Garde and playing Monk, Mingus, Blakey, Hubbard, Turrentine, Getz, Henderson, and Oscar Peterson, for sure - Porgy & Bess! Getting the CD's ready and on from

2 -4 pm Thursday.



---
Pretty Little GalPosted: Wed, 15 May 2019Female Calliope Hummingbird, taken while standing on a ladder in the yard with my camera on a sandbag up top, 6400th shutter speed. Our bridge is floating in the slough now, tied to a post, so no beach trips for a while.