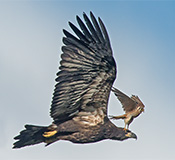 My favorite photo - a newly fledged Bald Eagle has a feisty American Kestrel take a ride for a second, taken at the river behind the house.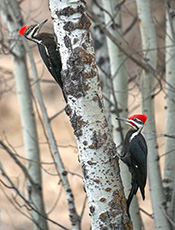 Pileated Woodpecker pair in the front yard. New photos nearly every day on our Blog page!



Things are always hopping at the Raptors of the Rockies organization. We're taking care of the birds and maintaining their enclosures, we're conducting raptor programs at local schools and organizations across Western Montana, art is flying out of the studio, we're taking photos and shooting video, we're out in the field birding and/or doing research, and much, much more.

To help you keep up with the flurry of activities happening at Raptors of the Rockies, we're blogging on a more-or-less daily basis and our most recent posts are listed below. Enjoy!
---
New LetterheadPosted: Fri, 16 Nov 2018And New Raptor Round-Up Newsletter out tomorrow! Number 56.

---
November BAEA'sPosted: Tue, 13 Nov 2018Wouldn't that be nice if this couple took over the nest again, eggs in March, chicks in May, a trip to the river every evening with the camera and dogs. "How many Bald Eagle photos do you need?" Back there last night anyway, and bundled up on the river bank.

---
PigeonPosted: Mon, 12 Nov 2018
---
Artist's ProofPosted: Thu, 08 Nov 2018
---
Helpful FalconPosted: Wed, 07 Nov 2018Sonora the Aplomado Falcon was helping me paint some prints of the new drypoint etching just now, "Kestrel in Flight."

---
Sibley at 24 Days Old, 2003Posted: Tue, 06 Nov 2018
---
Next...New EtchingPosted: Sat, 03 Nov 2018The new art piece is a kestrel in flight, originally intended as being really loose and impressionistic, but seems I can't avoid drawing in detail. Dumb old feathers. One difference since the last Osprey etching is temperature. Instead of running plates in my shorts with the doors and windows open, it's 38 degrees in the studio, even colder and no heat up there. After a few test prints I figured out that doesn't't work. In the middle of the night it came to me - ink up the plate in the office, and haul warm printing press bed and felts up to the press in the studio and voila! This is way more comfortable sitting at the glass table, listening to Radiohead. Edition on the way.

---
Jillian, 2003Posted: Wed, 31 Oct 2018Her first program at Hamilton Elementary on Halloween. Spoooooky!

---
Our YardPosted: Wed, 31 Oct 2018
---
Saturday Night LivePosted: Tue, 30 Oct 2018Our friend Dave Plummer with the eagles - he and fellow architect Mike Hupe built our entire facility here in 2001 after we relocated from Clinton.
Then Pete, Tom, Dave and Sparky here engaging in intellectual debate. Sparky displays the nice paint finish on his truck. FUN!