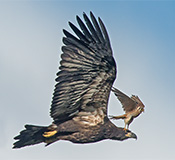 My favorite photo - a newly fledged Bald Eagle has a feisty American Kestrel take a ride for a second, taken at the river behind the house.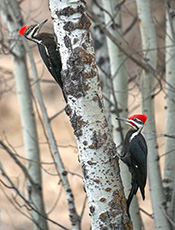 Pileated Woodpecker pair in the front yard. New photos nearly every day on our Blog page!



Things are always hopping at the Raptors of the Rockies organization. We're taking care of the birds and maintaining their enclosures, we're conducting raptor programs at local schools and organizations across Western Montana, art is flying out of the studio, we're taking photos and shooting video, we're out in the field birding and/or doing research, and much, much more.

To help you keep up with the flurry of activities happening at Raptors of the Rockies, we're blogging on a more-or-less daily basis and our most recent posts are listed below. Enjoy!
---
Sibley TodayPosted: Fri, 14 Dec 2018
---
Sonora In the OfficePosted: Wed, 12 Dec 2018
---
Just NowPosted: Tue, 11 Dec 2018Looking out the window in the living room, Bald Eagle above the nest. Then eggs in March?!

---
Zero DegreesPosted: Sat, 08 Dec 2018When it gets really cold, birds in the house and - Sonora, Sib, iPod and sometimes Owen. Tom informed me, "Zero degrees is nothing."

---
Sib TodayPosted: Fri, 07 Dec 2018
---
New Books!Posted: Thu, 06 Dec 2018

These are the finest books I have seen in many years, and Brian Wheeler has taken field guides for raptorphiles to a different realm. I made this flier and suggest that you purchase copies at Buteo Books

https://www.buteobooks.com.

I have never seen such detail, new science, and passion in any

titles. A must-have and WOW! Thanks Brian.
---
Photography ShowPosted: Sun, 02 Dec 2018Cool, twenty-five mostly new photos at Blacksmith Brewing, downtown Stevensville and thanks so much to Cathy and Jimmy Scholtens for helping me install. And Sonora the Aplomado in the first photo, helping me box 'em up, standing on the bookshelf door.

---
The Best Book...Posted: Tue, 27 Nov 2018...I've purchased in years! This one is the perfect holiday gift for your raptorphile or just plain old bird-friends. From Buteo Books. Superlative descriptions and illustrations from Brian Wheeler, incredibly thorough treatment of all the hawks, eagles, osprey and falcons - ages, color morphs, everything. He has produced the Birds of Prey of the East edition as well. Check it out!


---
Sunday In the SunPosted: Sun, 25 Nov 2018Not much to hunt as the Gray Partridges were hiding, but what a view of the Bitterroots across the valley from up in the Sapphires.

---
Moon Again?Posted: Sun, 25 Nov 2018