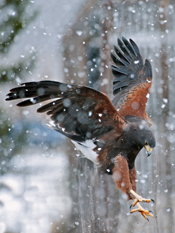 Chesty the Harris's Hawk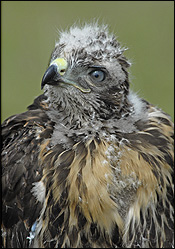 A young Red-tailed Hawk, released 2008.



Things are always hopping at the Raptors of the Rockies organization. We're taking care of the birds and maintaining their enclosures, we're conducting raptor programs at local schools and organizations across Western Montana, art is flying out of the studio, we're taking photos and shooting video, we're out in the field birding and/or doing research, and much, much more.

To help you keep up with the flurry of activities happening at Raptors of the Rockies, we're blogging on a more-or-less daily basis and our most recent posts are listed below. Enjoy!
---
Get ComfortablePosted: Wed, 11 Dec 2013It's going to be a long winter!

---
Slave to CyberspacePosted: Tue, 10 Dec 2013Our internet has been out since I posted the last blog, so got lots of real work done instead of goofing off. This photo was just found in the July archives - a kestrel fledging and leaping from the nest, sibling still in the cavity to the left, and it will appear in the book. A great nest at the MPG Ranch, and thanks Kate Stone for directing me that way for my camera to record the activities. Temperatures are now warming up so three birds are back outside, fed mice heated by the wood stove. We're glad to get through that arctic event unscathed.

---
Our Living RoomPosted: Sun, 08 Dec 2013
With overnight temperatures of negative 10 or so degrees, we have a houseload of birds. Top is Sonora the Aplomado on her perch on the bookshelf with a Nick Dunlop photo and some bear skulls. Yes, that's a stuffed duck to the right, one that Sibley caught and Dale Manning mounted. Then below, kennels with the Saw-whet Owl and kestrel, Sibley the Peregrine on her perch on the right, plus some of my metal sculptures in between. In the back bedroom, iPod the Pygmy-owl, and thankfully no owl vocalizations all night. Plus I took the bells off the falcons, a happy family. Outside, everyone is getting fed a few times a day, and warming up to zero!
---
Female KestrelPosted: Sat, 07 Dec 2013
For the new book, IN THE WORKS! Three chapters down and 70 photos selected. Nothing but fun.
---
Nigel- Eagle SpokesmanPosted: Thu, 05 Dec 2013I'm sure you've read the headlines and heard the news, "Utility Company Sentenced in Wyoming for Killing Protected Birds at Wind Projects," November 22nd and the shot heard 'round the world! Our friend Bob Anderson is Senior Counsel for the Environmental Crimes Section of the U.S. Dept. of Justice, based right here in Missoula. We met about ten or so years ago, pals with our mutual passion for birds...and movies. Last year he asked that I visit his downtown office with Nigel, as some folks would like to meet a live Golden Eagle. He wouldn't tell me who these people were, despite my curiosity and prodding, and only last week did I find out. They were with Duke Energy Corp., the North Carolina company fined $1 million for killing 14 Golden Eagles and 149 other protected birds at two wind farms in Wyoming. The prosecutor? Our Bob Anderson. He sent me the press release and wrote, "Do you remember our meeting in my office several months ago? This is the outcome of that negotiation." Nigel apparently made the right kind of impression that day. This was the first ever criminal enforcement for killing birds at wind farms, and Bob was also the prosecutor for the first electrocution case, Moon Lake in 1999. Justice has been served, and thanks Bob and Nigel, both Rock Stars!

---
Winter ArrivesPosted: Wed, 04 Dec 2013
Winter has hit, and a predicted 9 degrees below zero by Friday night. So several birds will be in the house, including the Pygmy-owl, one kestrel, Aplomado, and maybe Peregrine. The Harris's Hawk seems to love the snow!
---
And Now, For Something Completely Different...Posted: Mon, 02 Dec 2013

A raptor tour today for the Agostino Family, and their 7 year old son, Jason. When Sonora the Aplomado Falcon took off on her last (and final) road trip, it was young Jason that found her. By radio telemetry, I had located the wayward bird that night just after dark a few miles from the house. Panicking and knocking on the door, I informed the Agostino family that my lost falcon was in their back yard. I would be back before light the next morning to try to get her back. With the receiver beeping loudly at dawn, I called Jay on my cell phone to say I had found Sonora and hoped to get her back right away. Young Jason was standing at my side and was trying to tell me a story. A story I thought, then I re-played what he had just said. "Kate, when you were talking on the phone, a bird flew by and every time it flapped it's wings, it would make a jingling sound." It didn't strike me for a second or two, and then I asked. "Like a bell?!" "Yes, a bell." Jason had found Sonora for which he will go down in the annals of Raptors of the Rockies history as a hero. Oh, and here's a photo of Mookie racing around.
---
TodayPosted: Sat, 30 Nov 2013I can appreciate the term, "lucky duck." Over and over again. Still great enjoyment flying the falcon and sort of hunting ducks, but mostly marveling in these flights and camaraderie with the dogs, here in the Bitterroot neighborhood. Hope you had a great day as well!

---
Thankful? YES!Posted: Fri, 29 Nov 2013
---
Our National Bird HolidayPosted: Thu, 28 Nov 2013We are thankful for our Teaching Team birds this holiday, plus the dogs, cats, pigeons, quail and mice that all inhabit the place. Have a dandy Thursday with family and friends, and yes, we are having a turkey for dinner, but not one of these.