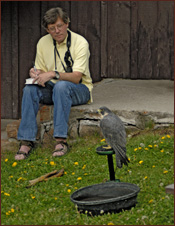 Author and artist, David Sibley does a sketch of Sibley, our Peregrine at a program at Pine Butte Guest Ranch, with the Nature Conservancy. For nine years, we have been invited to do a program then go bird watching!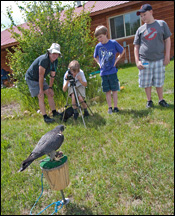 Ron Scholl and students from our summer Young Filmmakers Workshop, Missoula Community Access Television.



Raptors of the Rockies conducts a number of public programs and hosts a variety of fund-raising gatherings throughout the year. In addition, Kate and her birds are guests every two months on the popular "Pea Green Boat" radio show on KUFM, Montana Public Radio and she has been featured on local TV and the award-winning PBS program, Bird Watch, Ducks Unlimited TV, and the Animal Planet. Public events coming up include…
Red Cliffs Bird Festival, St. George Utah: I am back to southwest Utah for another Keynote address to bird enthusiasts from around the area. The Peregrine Fund is leading a California Condor trip at Zion NP and speaking about population recovery, and I'm on for the Saturday banquet. Details on the way! CANCELLED
Saturday, May 16, 2020
Lolo Wildlife Day, Travelers Rest POSTPONED: A gala event with Travelers Rest State Park and Defenders of Wildlife, Raptors of the Rockies on at 1 pm.
Saturday, June 6, 2020
Ninemile Ranger Station: Program for the public at 1:00 pm. FUN and more news on the way.
Monday, June 15, 2020
Raptors and Art for Kids, Missoula Art Museum: All week! 10:00 AM–noon // ages 7–12 // $80/72 Once again Bev and Kate come together to create an unparalleled experience of making art with live raptors! Kate brings an assortment of falcon, hawk, and owls from her home in the Bitterroot where she operates her educational program, Raptors of the Rockies. Learn about these magnificent birds as you make life size raptor sculptures and detailed drawings to help you fly into summer. The camp culminates in Printmaking Friday when Bev leads everyone to create monoprints using MAM's printing press. Please note: Priority will be given to children who have not yet taken this class.
Saturday, July 25, 2020
Bannack State Park and Ghost Town: Our ump-teenth visit to our favorite park, nestled in the Big Hole Valley (sort of) near Dillon. Free Raptors of the Rockies program at 2 pm, and we won't be late!