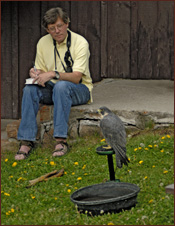 Author and artist, David Sibley does a sketch of Sibley, our Peregrine at a program at Pine Butte Guest Ranch, with the Nature Conservancy. For nine years, we have been invited to do a program then go bird watching!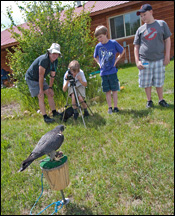 Ron Scholl and students from our summer Young Filmmakers Workshop, Missoula Community Access Television.



Raptors of the Rockies conducts a number of public programs and hosts a variety of fund-raising gatherings throughout the year. In addition, Kate and her birds are guests every two months on the popular "Pea Green Boat" radio show on KUFM, Montana Public Radio and she has been featured on local TV and the award-winning PBS program, Bird Watch, Ducks Unlimited TV, and the Animal Planet. Public events coming up include…
Montana Public Radio - Pea Green Boat: Take an hour cruise with skipper Annie, me and three birds, from 4-5 pm MST. Kestrels, Simon the Owl, and discussion of our three baby Sharp-shinned Hawks, about to be released. The left of the FM dial and 89.1 on Missoula, heard 'round the world on map.com. Psyched!
Saturday, September 15, 2018
Hawk Mountain Sanctuary: I'm the speaker for September at Hawk Mountain, Pennsylvania! That PowerPoint is making the rounds, how fun. Hundreds of photos and hoot like an owl.
Thursday, September 27, 2018
North Valley Public Library, Stevensville: Free program for all, 5-6 pm with birds and books. Details on the way.
Friday, October 12, 2018
HMANA Conference Keynote in Detroit: I'm opening up the 2018 Conference for the Hawk Migration Association of North America in Detroit, thank you very much. Three days of papers, speakers, and raptorphiles in Motown!