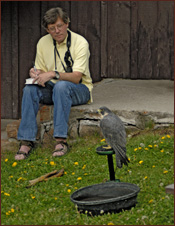 Author and artist, David Sibley does a sketch of Sibley, our Peregrine at a program at Pine Butte Guest Ranch, with the Nature Conservancy. For nine years, we have been invited to do a program then go bird watching!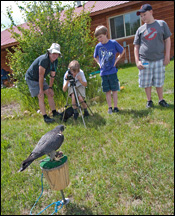 Ron Scholl and students from our summer Young Filmmakers Workshop, Missoula Community Access Television.



Raptors of the Rockies conducts a number of public programs and hosts a variety of fund-raising gatherings throughout the year. In addition, Kate and her birds are guests every two months on the popular "Pea Green Boat" radio show on KUFM, Montana Public Radio and she has been featured on local TV and the award-winning PBS program, Bird Watch, Ducks Unlimited TV, and the Animal Planet. Public events coming up include…
Ninepipes Museum of Early Montana, Charlo: How about a photography exhibition at one of our favorite museums - Ninepipe National Wildlife Refuge in the Flathead Valley? Great idea and First Saturday Artist Visit from 2:00-4:00 pm with Sibley the Peregrine. Free, in the Gift Shop and books for sale as well. Hey, bookmarks for or friends and see you there. A bunch of new framed photos, birds galore.
Monday, June 11, 2018
Birds And Art, Missoula Art Museum: Kids! Our annual week of drawing live birds for two days, then paper mâché sculptures for the next two days, finishing with printmaking on Friday. Me and Bev Beck Glueckert each day, starting at 10 am 'till noon at the museum. Sign up soon as this class fills quickly.
Saturday, June 23, 2018
Grand Opening of Milltown State Park: After removing the dam, a superfund clean-up, and new and overlook, the Grand Opening. I'll be on hand with a few birds, and details to come. Open to everyone.
Sunday, July 15, 2018
Seeley Lake Community Barbecue: We'll kick off a summer event for our friends at Seeley, at the Double Arrow Ranch Homestead Cabin starting at 3 pm. Birds and Barbecue, open to everyone.
Saturday, July 28, 2018
Bannack State Park: Return to our favorite Ghost Town! Program in the campground starting at 2 pm sharp, birds and books on hand. In the beautiful Big Hole Valley near Dillon (sort of) and open to everyone.
Friday, August 03, 2018
First Friday, River's Mist Gallery: See you on Main Street in Stevensville for all new photos from the Bitterroot displayed, a nice Teaching Team raptor and videos and stories on my laptop! Artist's reception from 6-9 pm.