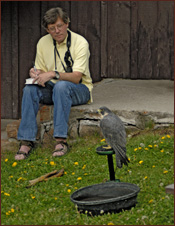 Author and artist, David Sibley does a sketch of Sibley, our Peregrine at a program at Pine Butte Guest Ranch, with the Nature Conservancy. For nine years, we have been invited to do a program then go bird watching!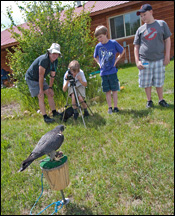 Ron Scholl and students from our summer Young Filmmakers Workshop, Missoula Community Access Television.



Raptors of the Rockies conducts a number of public programs and hosts a variety of fund-raising gatherings throughout the year. In addition, Kate and her birds are guests every two months on the popular "Pea Green Boat" radio show on KUFM, Montana Public Radio and she has been featured on local TV and the award-winning PBS program, Bird Watch, Ducks Unlimited TV, and the Animal Planet. Public events coming up include…
Photographing Raptors Workshop: At the Raptor Research Foundation Conference, Fort Collins, CO. With pals and book partners Nick Dunlop and Rob Palmer. email for details.
Tuesday, April 28, 2020
Red Cliffs Bird Festival, St. George Utah: I am back to southwest Utah for another Keynote address to bird enthusiasts from around the area. The Peregrine Fund is leading a Condor trip at Zion and speaking about population recovery, and I'm on for the Saturday banquet. Detail on the way!