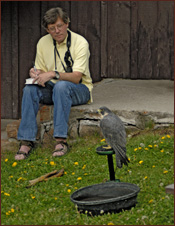 Author and artist, David Sibley does a sketch of Sibley, our Peregrine at a program at Pine Butte Guest Ranch, with the Nature Conservancy. For nine years, we have been invited to do a program then go bird watching!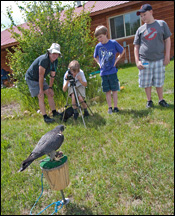 Ron Scholl and students from our summer Young Filmmakers Workshop, Missoula Community Access Television.



Raptors of the Rockies conducts a number of public programs and hosts a variety of fund-raising gatherings throughout the year. In addition, Kate and her birds are guests every two months on the popular "Pea Green Boat" radio show on KUFM, Montana Public Radio and she has been featured on local TV and the award-winning PBS program, Bird Watch, Ducks Unlimited TV, and the Animal Planet. Public events coming up include…
Celebrating World Migratory Bird Day with Kate Davis: Lolo Pass Visitor Center, 10:30 am and several Teaching Team birds, free and open to everyone. And books available!
Monday, June 17, 2019
Missoula Art Museum, Raptors and Art Camp for Kids: Bev Beck Glueckert and I return for our favorite week of raptors and kids, Monday - Friday from 10 am 'till noon. Drawing live models for two days, then making life-size paper mâché birds, and finishing up with printmaking. Fills up fast so call Jenny Bevill at the MAM 728-0447.
Sunday, August 11, 2019
Clay Studio of Missoula: Attention ceramists: an afternoon of clay sculpting with discussion of anatomy, PowerPoint on the program, and raptors as models, from 2-5 pm. Contact Jazmine, Outreach Coordinator at fire@theclaystudioofmissoula.org. This will be fun!