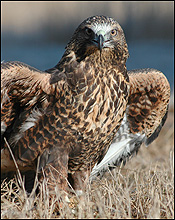 Buteo swainsoni
Swainson's Hawks are part of the Accipitridae family in the order Accipitriformes. Click here to learn more...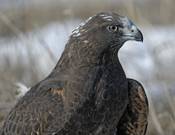 Evita the dark morph Swainson's Hawk joined us in December 2004. This youngster suffered from a wing break after fledging near Dillon, Montana. She came to us darkly streaked (left photo) and molted into a charcoal dark bird in adult plumage the following year. She has a bit of white above her beak and light bands on the tail, a beauty. Her debut program was as the adopted mascot of the Hellgate Elementary School in Missoula.

Evita shares an enclosure with Simone the Red-tail and they get along wonderfully. Swainson's Hawks are highly migratory, breeding mostly east of the divide in our state, then flying to Argentina for the winter. With her connection to Argentina, board member Deborah Richie came up with the name Evita. She is a gorgeous bird, and a portrait of her is on the IAATE website as the winner of their photography competition.

Great misfortune and Evita had to be euthanized Feb 12th. She suffered from continual beak problems then somehow fractured her lower mandible. She will be missed, a long 15 years on the Teaching Team. R.I.P. Evita!

Date Acquired: 12/14/2004