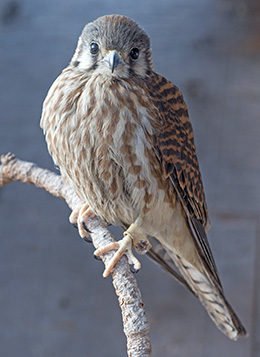 Falco sparverius
American Kestrels are part of the Falconidae family in the order Falconiformes. Click here to learn more...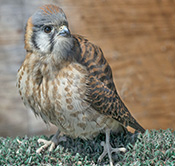 Ella and her brother Wes came to us from Helena after someone had them as pets, confiscated by Fish, Wildlife & Parks wardens. They spent a month at the Wildlife Center of Montana and were fed live mice without viewing humans. It became obvious that these falcons were imprinted, or permanently fixed on humans as parents or mates. They were determined to be unreleasable, and had their debut program on Montana Public Radio Pea Green Boat. Both were pros from the get go - they rode in the travel boxes, stood on the glove, and vocalized for the listening audience as if they had been doing it all of their lives. They are family members, here at the Raptor Ranch.

When I leave for a Raptor Conference or speaking engagement, my husband Tom feeds by dropping mice through a feeding tube (actually a pvc pipe) so no danger of them leaving through the doorway. Thanks, Tom.

Named after the best voice that ever lived, Ella Fitzgerald! Another 2023 tragedy and Ella was indoors for several days in the extreme cold then passed in January. Much missed by her brother Wes and by me especially. Loved that bird for her 10 years with us.

Date Acquired: 12/18/2013