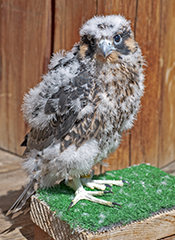 Falco peregrinus
Peregrine Falcons are part of the Falconidae family in the order Falconiformes.




Little Jake came to us from Springhill Falcons in Bozeman at 19 days of age, Sibley's sort-of cousin. Thanks Jennifer Manning for the ride to pick him up, and he was raised in a playpen inside and one outside. He is named for our pal Jake Snowden, unveiled at his 8th birthday party for family and friends here in Florence. Big Jake met our birds here two years ago when father Andy brought over some bear meat to feed the eagles, and he was hooked on zoology and specifically Peregrines.

Skip at Springhill tells me that our bird is 3/4 Peale's Peregrine and 1/4 continental. His mom's mom was Sibley's mom (got it?) I have imprinted six birds over the years, falcons and one owl. This guy is sure friendly and quiet, hardly makes a peep, and playful as can be. All the down is gone now, and a day of vacuuming the house has erased that memory. Little Jake is reluctant to feed himself still but I know he'll get over that hurdle and be a food monster like his cousin, Sib. This is sure fun, and glad to have the time to spend with Jakers, a little break in the program action lately.